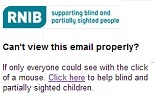 Last year, the Royal National Institute for the Blind ran an email campaign that cleverly played with email conventions to challenge readers to empathise with blind or partially sighted people. This case study looks at how they managed to get a 24% click through rate with a simple but effective email.
More on this case study…
Brand: RNIB | Sector: Charity | Coutry: UK | Objective: Build brand engagement | Agency: Elvis | Format: Email |
In an effort to raise awareness of the challenges faced by blind and partially-sighted children in the UK, RNIB worked with Elvis on a campaign which played on the annoying e-mails people receive everyday with broken images.
Recipients of the e-mail were unable to see any imagery, despite clicking on the familiar 'click here to view images' link. The e-mail was permanently broken.
Clicking on the 'view images' link, people were then directed to a page on the RNIB website where they could learn more about the issues surrounding the blind and donate to the charity.
The e-mail campaign achieved a 24 per cent click through rate.
View the email here: http://emails.elviscommunications.net/RNIB/rnib.html