In 2013, Swarovski Optik launched a social media campaign capturing the vacation experiences of travellers, positioning its new CL Pocket binoculars as an accessory for enhancing holiday sights. This campaign was developed by international creative agency Perfect Fools and met the desire to show and comment on holiday and travel experiences via TripAdvisor and Facebook, in a glamorous digital space.
Brand: Swarovski | Sector: Luxury | Country: UK | Partner/agency: Perfect Fools | Objective: brand awareness, consideration and purchase | Format: Social, Trip Advisor, Facebook
The CL Pocket Journal website, which also contains luxury-travel themed content, will live on after the campaign, hosting participants' videos, images and comments about the summer of 2013.
Posting, sharing and liking images and experiences of holidays earns participants points which can be used to save money on stays at Mr & Mrs Smith boutique hotels worldwide.
Guests at ten of the luxury hotel group's residences will be among the first to try out a CL Pocket, with three pairs of the binoculars available at each location, along with suggestions for scenery-perfect walks, treks or nature areas to explore using the binoculars. They will also be encouraged to upload images and stories of their excursions to the site.
In another first, a small number of high-profile travel bloggers will be given the chance to review a CL Pocket.
The deliberately wide-reaching campaign by Perfect Fools captures the universal enjoyment of viewing beautiful, select, locations from not just Facebook friends, but also anybody who chooses to share their travel memories of 2013. This content could well inspire next year's special vacation break, and keep memories alive.
The campaign is supported by both brands' websites, as well as online outreach.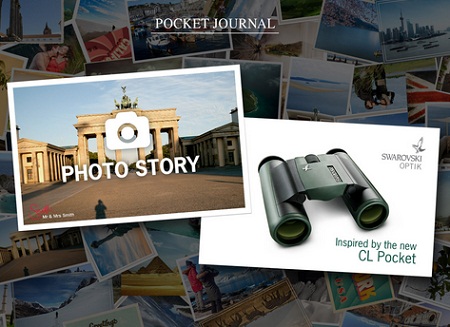 http://clpocketjournal.swarovskioptik.com