Back in 2011, O2 made the bold move to expand beyond the consumer with an initiative to get small businesses on its side- winning a raft of new customers ahead of rivals Vodafone, Orange and T-Mobile in the process. This case study looks at how the UK mobile network operator identified a growing demand and re-positioned its brand to get tens of thousands of businesses using their network.
Key takeaways
• Mobile network identified new UK market of small business owners that could be unified though app-powered discounts
• Simple mobile solution links O2's established consumer-base to wealth of small businesses via coupon app
• Captured new suppliers ahead of rivals while encouraging customer brand loyalty
What was the challenge?
Small local businesses on high streets in the UK are on a knife edge. Declining footfall and increased competition from larger chain stores has seen the closure of many independent businesses. 12.7% of local businesses in the UK were forced to close in 2011 and the percentage of empty shops increased from 3% to 14.5% between 2008 and 2012. A study by O2 to find out why consumers aren't shopping locally found that almost a third of people who shop at larger, competitive stores do so simply because they aren't aware of any independent alternatives, a huge 18% could not even name an independent retailer near their home. Another reason why consumers are shying away from shopping locally is because over half (53%) think that independent retailers are more expensive than chain stores and don't offer the range of goods they are looking for.
A study by from the Local Data Company states that in order to survive and grow small local businesses need to harness the power of technology. Enter O2 Priority Moments Local, an accessible mobile marketing service for independent retailers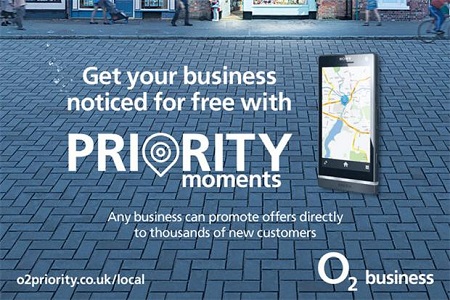 What's the user's experience?

2011 saw the launch of 02 Priority Moments, a location based service app that gave O2 customers exclusive deals and discounts with big brands. The launch was hugely successful as consumers love online offers and vouchers and O2 saw over three million of its customers sign up to the app in the first six months.
In order to meet the needs of smaller businesses O2 launched Priority Moments Local in July 2012. Priority Moments Local will help independent businesses to leverage their services and place in the local community as well as increase customer awareness of their brand. The app allows all independent businesses (whether O2 customers or not) to create limited offers, deals, discounts and experiences to attract local customers to drive footfall, build customer loyalty and boost profit. While consumers benefit from receiving tailored offers from their local high street and businesses they have previously struggled to connect with.
How does this boost the businesses digital marketing?
There are currently over 17,000 small businesses using Priority Moments Local to help transform the way they do business. As ecommerce and shopping online became a reality consumer shopping behaviours changed dramatically. The impact of this behavioural change has been damaging on traditional retailing and in particular on independent businesses. Thanks to the O2 Priority Moments Local tool, retailers now have the tools and capabilities to respond to the consumer behavioural change and encourage customers to shop on their local high streets again.