Sports and fitness are often very social activities, and UK sports brand for women Sweaty Betty capitalised on this to offer a drastically different shopping experience for consumers compared to the 'warehouse' feel from the likes of Sports Direct. So what makes Sweaty Betty stand out in the overcrowded fitness market? This case study looks at how the brand built a social community around fitness challenges to boost brand loyalty.
@ClareeSherry glad you enjoyed the workout from the @sleektechnique girls. Don't forget to try the new #SBFlyFlexFlow workout too...

— Sweaty Betty (@sweatybetty) January 25, 2015
Case study summary
• Sweaty Betty stands out in the overcrowded fitness industry with its own social community
• Active on a range of social platforms, Sweaty Betty has positioned its brand in a unique way by creating a social community with content and context that appeals to its audience
• Hashtag campaigns that engage and reward members of their fitness community
The challenge
Success in the competitive sports and fitness industry is tough and brands need to offer a unique shopping experience to attract customers.
The solution
Sweaty Betty is a great example of a business built around a fitness community and brand reaping huge rewards from the rise of social media. Active on a range of social media platforms including Twitter, Instagram, Pinterest, Facebook, YouTube and its own lifestyle blog, Sweaty Betty has gained a strong following. Let's have a deeper look at what Sweaty Betty are doing so well on Twitter and Instagram.
Twitter
Sweaty Betty has an active Twitter feed that largely focuses on product promotion, but instead of directing followers to product pages it typically links to its blog or YouTube content to inspire followers. Building on this there's also a good mix of fitness articles from other sites, competitions and event promotion.
This soft sales approach gives people a greater reason to follow the Twitter account as it provides genuinely interesting and useful health and fitness content.
Another reason for Sweaty Betty's success on Twitter is that they responds to customer enquiries and engages in general conversations with followers. This is very important for businesses that are built around a community as it means customers feel a stronger connection with the brand.
@emmash321 Hi Emma, if you speak to the store they'll be able to get your goodie bag sorted for you. Thanks

— Sweaty Betty (@sweatybetty) January 14, 2015
One notable campaign was the 30 Day Sweat Challenge that took place during September 2014, where women were encouraged to take a fitness test on day one, and repeat it on day 30 to see how they'd improved after a month.
During the 30 days Sweaty Betty set various challenges, gave out diet advice, hosted fitness classes and awarded prizes to those taking part.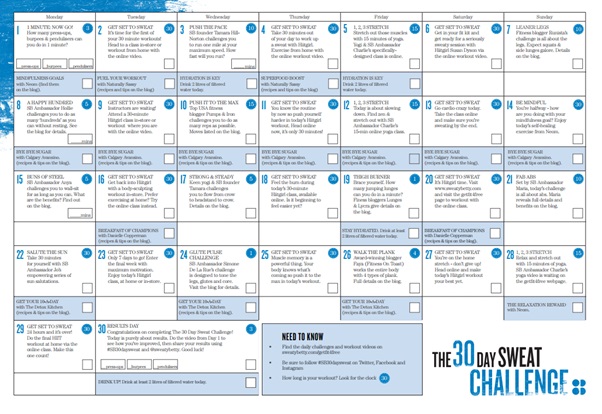 It is evident that the campaign was a success - from the #SB30DaySweat hashtag you can see that lots of people got involved with the campaign, with the hashtag being used more than 900 times in September 2014 according to Topsy.
Overall on Twitter Sweaty Betty strikes the right balance between product promotion and customer engagement, and thankfully shies away from just posting clichéd inspirational quotes which are a common feature of the health and fitness industry.
Instagram
Sweaty Betty's Instagram page is full of glossy well taken photos of landscapes, fitness techniques and diet tips; the idea behind this is that by promoting the benefits of a healthy lifestyle people will buy fitness products from Sweaty Betty.
One thing that sets Sweaty Betty apart from other brands on Instagram is that they repost images from other users and brand ambassadors. This is a great way of rewarding the brands followers and highlights the fact that Sweaty Betty is fitness/healthy lifestyle community not just a retailer.
Sweaty Betty has over 20,000 Instagram followers which is impressive for a national women's sportswear brand.
Results
By building their brand around their social community Sweaty Betty are able to offer a new shopping experience for consumers which have resulted in high levels of engagement.

By building a relationship with its customers through social media platforms Sweaty Betty has been able to gain a deeper understanding of their target audience and create a loyal community.