In 2008 Nestlé launched a major SMS campaign in Brazil to promote sales, with football idol Pelé. The campaign: "Nestlé Torce Por Você" which translates to "Nestlé roots for you" saw Pelé wear 27 different teams' football shirts from the Brasileirão série A and B. Pelé asked people to participate in the campaign with the message 'to change people's lives I wear your shirt'. Posters of Pelé in the various football shirts were displayed on billboards, magazines, newspapers and on TV where Brazilians were encouraged to interact with the brand using their mobile phone.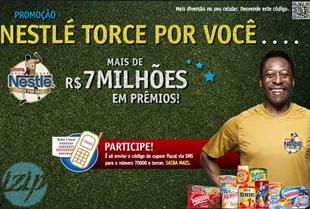 Case study summary
• Nestlé launched a major SMS campaign to promote sales in Brazil
• Customers had to send via SMS a code found on Nestlé products to have the chance to win thousands of prizes
• Nestlé used football idol Pelé as the spokesman for the campaign to increase consumer engagement
The challenge
Nestlé wanted to increase brand engagement and their market share in Brazil. In order to connect with the football loving Brazilian public, Nestlé created a SMS campaign with the nation's hero Pelé at the centre.
The solution
In the Nestlé campaign Pelé shows off his football skills while wearing a host of Brazilian football shirts. The campaign encouraged customers to participate via SMS. Every R$7 (£1.80) product had a unique code on it that customers could send by text message (SMS) to the number 7000.
The customer received an SMS confirming their participation and entrance into a draw to win prizes. Nestlé spent over R$7 million in prizes ranging from 480 tickets to Brazilian championship football games, exclusive football shirts of the top 27 Brazilian clubs, weekly cash prizes of R$70,000 and a big cash prize of R$700,000 at the end of the promotion.
The consumer experience was great, with football at the heart of the campaign the Brazilian public were engaged from the beginning.
The campaign integrated a number of key marketing elements; user interaction, SMS for mass market reach and use of different media including advertising in magazines, newspapers and TV for consumer awareness.