How can the world's most discerning Dijon help people celebrate good taste once again? This case study looks at how Grey Poupon to the risky strategy of only allowing 'classy' people to like its brand page on Facebook via a profile scanning app.
Case study summary
• High –end mustard brand looks to boost exclusive image on Facebook
• First brand to reject 'likes' of fans that are not deemed to have good taste (or good spelling)
• Gamble pays off as fans clamour to prove they are classy enough to join 'Society of Good Taste'
The challenge
Grey Poupon wanted to project its upper class image on Facebook- but how is this achieved ion a mass media platform? Working with agency Crispin Porter + Bogusky, the high-end mustard brand decided to create a Facebook application that searches and judges people's profiles based on their grammar, misspellings, art taste, education, music selection, movie choices, restaurant check-ins, cities visited, books read, etc, to define the membership of an exclusive members-only club.
The solution
The application had an algorithm that determined how "classy" each user was based on your Facebook profile data. The app then determined a percentage based on the data and if the user didn't make the upper percentile, the brand deleted their and they had to apply again.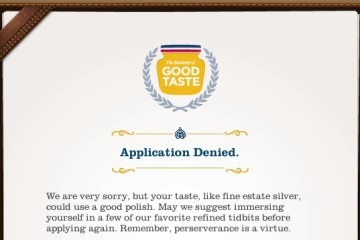 An example rejection message can be seen below:
"We are sorry, but your taste, like fine estate silver, could use a good polish. Here's a few things that should be read (Charles Dickens Great Expectations), watched (PBS's Masterpiece), listened to (Pandora's Mozart channel) and eaten (Filet Mignon with, of course, Grey Poupon sauce) before we will reassess an application."
Those who made a high enough percentile had the chance to win exclusive members-only benefits. Things like gift cards, cook books, reusable shopping bags, oven mitts, t-shirts...and they were able to enter in a sweepstakes for a chance to win a weekend being chauffeured around in a luxury car.
Results
The campaign did well because they were one of the first brands on Facebook to actually make people apply to become a fan. It turned Facebook on its head with an element of exclusivity to differentiate the Grey Poupon brand. It was a great way to find new consumers who exhibit values similar to the brand and who would appreciate quality and good taste. The brand also offered benefits for members, so those who made a high enough percentile had the chance to receive exclusive members-only benefits.