LatestinBeauty.com increased sales by a third following a new type of campaign, which lets retailers to run a promotion without discounting. This case study looks at how the luxury beauty site used a gamification element to boost win customers over and boost brand presence online.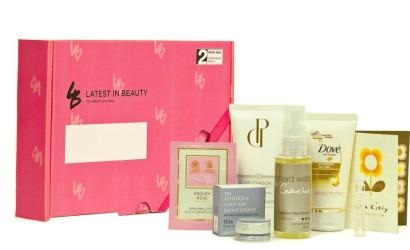 Case study summary
• Beauty site runs seasonal easter campaign
• One ten customers get purchases for free
• Order values increased by 21%, while conversion rates jumped by a third over the four day holiday.
The challenge
LatestinBeauty.com works with brands such as GLAMOUR magazine, YOU magazine and Heart FM, offering a range of brand-collaborated beauty boxes including products from retailers such as Clinique, Bourjois and Liz Earle. Customers can also create bespoke boxes.
The solution
The site partnered with retail promotions technology company Luckycycle.
The luxury beauty discovery platform, which offers exclusive full and sample sized beauty goods, ran a promotion over the Easter weekend across its entire range and offered customers who'd spent over £10 a one in 10 chance to win their purchases for free.
Want to win your order in our Lucky Egg offer? Trudy H. won hers worth £ 34.94! http://t.co/jFDfJIaD6w

— Latest in Beauty (@LatestInBeauty) April 3, 2015
The Lucky Egg campaign could be accessed after a completed sale and was used to boost engagement throughout the site.
"Discounts have become the standard procedure for rewarding customers – we wanted to offer something that people wouldn't necessarily expect," said Fiona Dillon, eCommerce and Social Media Manager at LatestinBeauty.com.
"Luckycycle gave us the chance to stand out in a fresh way that leaves a lasting impression. Making sure the retail experience is notable is essential to captivating our audience, and the gamification element added a level of fun and intrigue. It's something you'd want to share, and something that people want to talk about."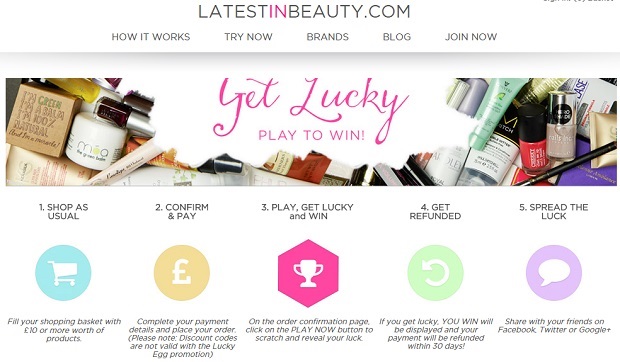 Luckycycle launched in the UK in 2015 and other clients include Clinique, Royal Canin and Europe's largest electronics retailer Media Markt.
The results
Campaign findings showed that average order values increased by 21%, while conversion rates jumped by a third over the four day holiday.
LatestinBeauty.com plans to implement Luckycycle's technology for further campaigns.
"LatestinBeauty.com understands the need to evolve its offering to shoppers," said Géraud de Borchgrave, MD of Luckycycle. "We are moving away from a voucher code-driven industry where promotions are concerned. While discounts will always have a place, the ability to offer value in exchange for a purchase without slashing prices is appealing. Running a different kind of campaign reflects LatestinBeauty.com's personalised and engaged approach to the shopping experience it offers customers."
Ordered the @britbeautyblog and Capital beauty boxes from @LatestInBeauty today and won a full refund with their Lucky Egg promo! #Eggstatic

— jellyminx (@jellyminx) March 27, 2015
Luckycycle is the first company of its kind in the UK. Its clients include Europe's largest electronics retailer Media Markt, Royal Canin and Clinique.