Retailer Urban Outfitters worked with agency Greenlight Digital to streamline its paid search campaigns and expand from three markets to 13 in just one year.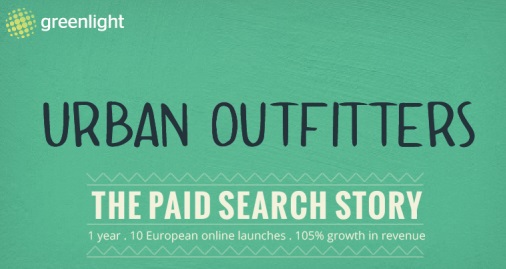 Case study summary
• High street retailer Urban Outfitters teamed up with Greenlight to replicate its strong brand presence in the UK across Europe
• Greenlight streamlined Urban Outfitters' paid search by building campaigns around localised PPC
• For every £1 spent on paid search the return was £12, highlighting a great ROMI
The challenge
Urban Outfitters is an innovative specialty retail company which sells a variety of lifestyle merchandise to highly defined customer niches. The retailer has a strong brand presence in the UK but lacked this in rest of Europe. In order to replicate its success and sales enjoyed in the UK, Urban Outfitters teamed up with agency Greenlight to build strong paid search campaigns.
The solution
Greenlight streamlined paid search by splitting the Urban Outfitters' account into relevant countries making it easier to truly localise PPC (pay per click) campaigns in Austria, Belgium, Denmark, Finland, France, Germany, Italy, Netherlands, Norway, Spain, Sweden, Switzerland and the UK.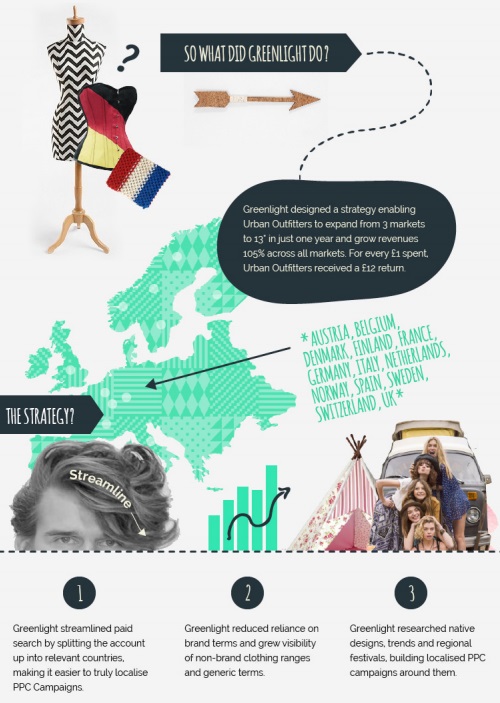 Greenlight reduced reliance on brand terms and grew visibility of non-brand clothing ranges and generic terms in paid search campaigns. By researching native designs, trends and regional festivals, Greenlight was able to build localised PPC campaigns around these keyphrases.
The results
The new paid search digital strategy enabled Urban Outfitters to expand in 13 markets. Conversions increased by 50% across all markets and the brand saw a CPA (cost per action) reduction of 66%. There was a 105% increase in revenue across the markets. Overall for every £1 Urban Outfitters spent on paid search the return was £12, highlighting a great ROMI.
"Greenlight has been instrumental in Urban Outfitters' aggressive contribution to revenue through paid search and a major force behind our hugely successful online expansion into ten new European markets in just one year." – Claire Taylor (Paid Search and Affiliate Manager at Urban Outfitters).