The 'Lucky iron Fish' project aimed to tackle iron deficiency in Cambodia by encouraging people to cook with a block of iron in their saucepans. His case study looks at how the product and social media campaign improved the luck of 10,000 families in Cambodia.
Case study summary
• New project tackles iron deficiency problem in Cambodia
• Lucky Fish plays to local culture and provides 75% daily iron intake
• Online shop helps others donate
• Project decreases iron deficiency anemia by 50% in rural areas
The challenge
In Cambodia half the population are severely anemic because their diet of rice and fish contains almost no iron. Common solutions such as cooking with iron pots and blocks or ingesting iron supplements are expensive, uncommon, and unsustainable.
The solution
So how do you find an alternative to the expensive iron supplements currently on the market?
Christopher Charles, an epidemiologist who witnessed this problem in rural Cambodia, gathered his team and brilliantly hacked up a solution. By creating a fish-shaped metal supplement that only needs to be submerged in soup, broth, or boiling water for 10 minutes, the product can provide 75% of the necessary daily iron intake.
With a little bit of lemon or citrus juice added to the pot, the product can release even more iron. He claims the Lucky Fish could last a family for 5 years and is made from recycled car parts.
The shape of a fish was chosen because it is a symbol of good luck in Cambodia, so by turning a previously unsightly iron block into an auspicious cultural symbol, they've further motivated families to actually use the product.
People interested in own their own Lucky Iron Fish can buy one for $25, with another one going to a family in Cambodia.
A school of fishes (five pieces) that goes straight to Cambodian families is on sale for $25. A lapel pin sells for $20 and comes with a donation of two Lucky Iron Fishes.
The results
So far, it has been successful in decreasing iron deficiency anemia by 50% in rural parts of the country where the Lucky Iron Fish has been distributed.
The product has won numerous awards including a Grand Prix from Cannes in product design and a "Commit to Action Award" by the Clinton Global Initiative University.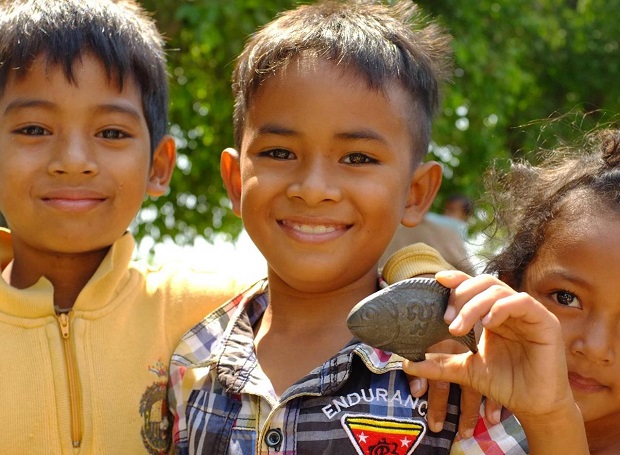 The organization is now looking to expand its efforts to other parts of Southeast Asia, India, and East Africa, but I wonder if future plans will include taking on new forms and adapting the product to different cultural contexts.
The genius of the Lucky Iron Fish is that it does not have to be shaped like a fish. "If we were to go to sub-Saharan Africa," says Charles, "or a dry area where fish is not an important part of the diet, we could very easily change it to a different symbol of luck."