This year's Grand Prix winner of the Cannes Lions 2015 Media category was Vodafone for their red light app. The secret app was disguised as a flashlight and enabled women in Turkey to ask for help when they were in danger of domestic violence.
Case study summary
• Winner of the Media Grand Prix award at the Cannes Lions awards 2015
• Vodafone created an innovative marketing campaign to ensure the message of their app was only seen by women
The challenge
Domestic violence is an issue in Turkey, where one in three women are a victim. Many women are afraid to speak out and seek help, Telecoms Company Vodafone believes technology can be used as a powerful force for good and wanted to help these women.
The solution
Vodafone created an app that women could use in secret to get help when they were in danger of domestic abuse. The app was hidden within a flashlight app, all a woman needed to do was shake her phone and a message along with her location would be sent to three people she trusts.
The biggest challenge Vodafone faced was spreading the message of the app in secret without any men finding out about it. Ads were placed in labels in women's underwear, on wax strips, and in the middle of make-up vlogs. Vodafone estimated that the secrecy could only be kept for ten months, so at this point Vodafone had to update the app.
The flashlight app was updated into a mirror application so it was secret again. This update was spread using unique marketing as before.
As well as this all female Vodafone subscribers were updated with a voice automated message, if a man answered the phone instead of the intended woman, this was recognised and a standard marketing message was played instead.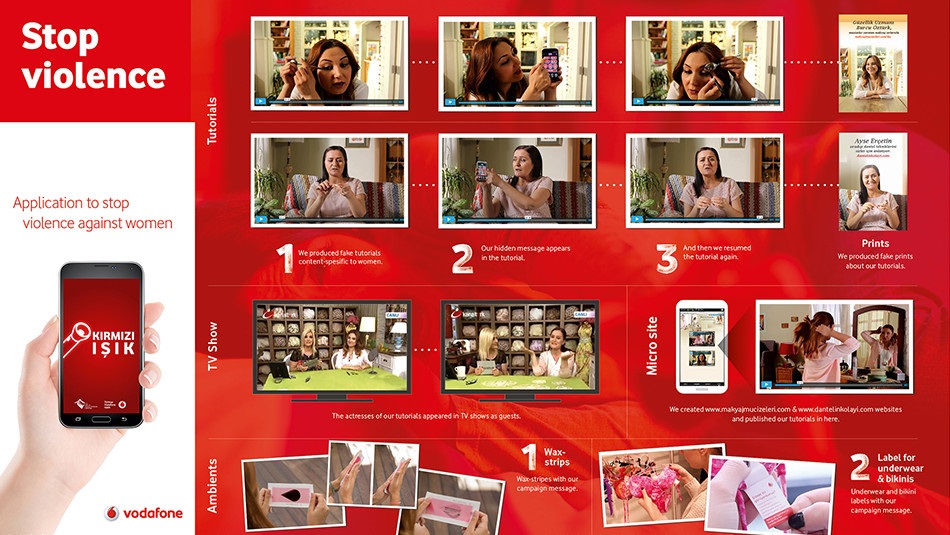 Results
254,000 women in Turkey have downloaded the app, which is 24% of all women with smartphones in the country.
The app has been activated over 103,000 times. This app has been a huge success and a lifeline for many women in danger and for this reason it won the Grand Prix award in the media category at the Cannes Lions 2015.