Clinique boosted its influence among young women by taking its #FaceForward campaign to Tumblr.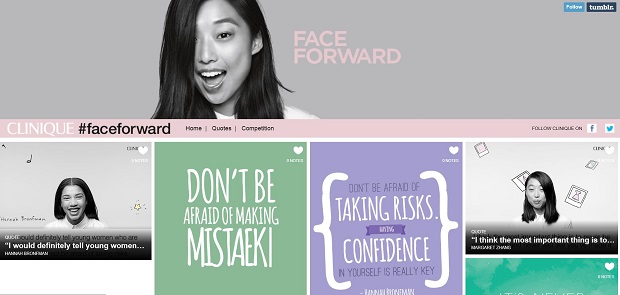 Case study summary
• Clinique launched its #FaceForward campaign on Tumblr to engage with young female millennials
• For the campaign Clinique collaborated with inspirational millennial influencers such as Tavi Gevenson
• The campaign on Tumblr increased brand uplift
• A survey by Milward Brown after the campaign found that 59% of the target market are more likely to purchase a Clinique product and 51% would recommend Clinique to a friend
Challenge
Clinique wanted to boost its influence among young women specifically targeting millennials aged 18-29 in order to inspire a new generation of Clinique users. To do this Clinique needed to establish brand equity and awareness; resonate as modern, relevant and dynamic and embed #FaceForward in young millennials' conversations.

Solution
Clinique decided to partner with Tumblr to publish content that would engage with the target audience.
Natalie Clarke, UK group marketing manager for Clinique, said: "The inspiration for the campaign came from a generation of young, bold, confident women that embody Clinique's vision and beliefs. We feel that Yahoo and Tumblr allow us the ideal platform to reach these young women with bespoke content."
Why Tumblr?
• Tumblr has 1.6 million female millennial users each month who are digitally savvy and beauty and fashion obsessed
• It's a place for creative expression
• Great content is created on Tumblr and given the opportunity to go viral
• Tumblr is a positive and empowering environment to reach young women on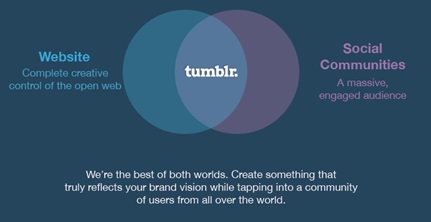 Clinique partnered with Tumblr to create a page for the FaceForward campaign full of rich, inspirational content for young millennials. The page included Girl on the Ground Vox Pops, inspirational interviews and quotes, and a user generated giveaway competition.
Yahoo collaborated with inspirational millennial women including: Margaret Zhang, Tavi Gevinson and Hannah Bonfman to create content as well as creating a video series about six young British women for the UK campaign. Content produced included fashion, design, travel, blogging, charity and literature.
The Tumblr content was also promoted on the Yahoo homepage and in the Yahoo style magazine as well as through Tumblr sponsored posts and videos; and programmatic ads.
Results
Milward Brown surveyed the target audience and found that brand uplift amongst female 18-24 year olds had increased:
• +12% Inspiration
• +15% Brand trust
• +13% Modern
• +13% Beauty confidence
The Tumblr site prompted over half of the 18-24 year old audience surveyed to change their behavior:
• 51% would recommend Clinique to a friend
• 52% would talk about this content with friends
• 36% would share this content on other social networks
• 49% intended to seek out more information on Clinique
• 59% are likely to purchase Clinique