Feel Unique is Europe's largest online retailer of premium beauty products stocking over 500 brands and 18,500 products. In order to succeed in a highly competitive field and stand out online, the beauty retailer enlisted the expertise of SEO agency Builtvisible.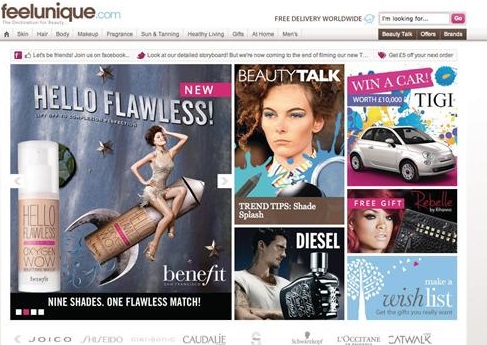 Case study summary
• Feel Unique improved search keywords and created great content to drive high quality links to the website
• The beauty retailer saw a 356% increase in organic visibility
• Feel Unique increased organic traffic to its website by 198%
Challenge
Operating in a highly competitive field and competing for growth against established high street brands, Feel Unique wanted to improve their organic traffic and increase revenue.
Solution
1. Research
Builtvisible's first step with Feel Unique was to form a complete picture of the market, and understand exactly how Feel Unique needed to adapt their content and site structure to fully meet demand and match their competitors. The research also extended to seasonal projects, reviewing strategies for maximising SEO in the lead up to Christmas.
Keyword research for Feel Unique: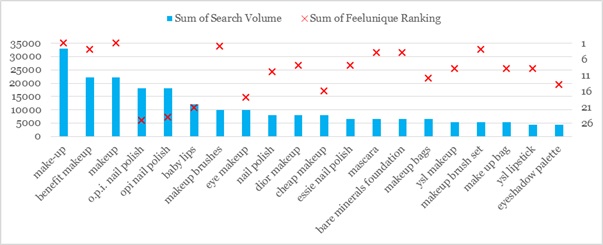 2. Technical Consulting

As with any ecommerce site, Feel Unique faced the challenge of scaling the site without negatively impacting crawl efficiency. To overcome this technical SEO work included in-depth technical audits, regular "quick wins audits" and mobile SEO consulting.
Feelunique.com's organic visibility over the past two years:



3. Content Marketing & Link Building
To remain competitive, Feel Unique ensured a regular flow of high quality links to the domain were generated. With coverage on media publishers including Cosmopolitan, The Telegraph and Daily Mail, the new content produced both strong links for SEO and great brand coverage and PR value.
By monitoring brand activity and responding immediately to any opportunities, the domain has been strengthened further by converting non-linked brand mentions into links to the domain. This activity alone resulted in links from authoritative publications such as Hollywood Life, The Express, Daily Star and Glamour Magazine.


Results
Creative work:
• Happy New You – Entreprenuer.com
• Classical Beauty: French Pharmacy'– Cosmopolitan
• For the Love of Colour– Daily Mail
• Remarkable Women: 16 Women who Shaped the World' - Feelunique.com
• Global Beauty Trends – The Telegraph
Overall results for Feel Unique:
• 198% increase in organic traffic
• 41% increase in revenue via organic
• 356% increase in organic visibility
• 174% increase in pages driving organic traffic