Swedish sustainable food retailer Matsmart almost doubled its web revenues in just 3 months when it cooked up a series of highly segmented dynamic ad campaigns.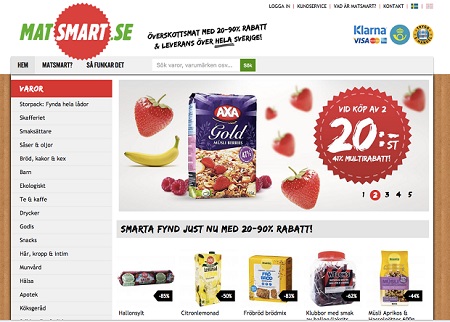 Case study summary
• Sustainable retailer used Facebook to grow awareness of the brand
• Facebook campaigns segmented by target audiences with changing dynamic ads based user profiles
• 84% increase in website revenue over 3 months and 4 times ROI over 6 months
The challenge
Scandinavian retailer Matsmart was founded in 2012 by a team of entrepreneurs who wanted to tackle the growing problem of food waste. It buys surplus food products from suppliers and sells them to consumers online at discounts of up to 90% of the original retail price.
Matsmart wanted to grow awareness of the brand by demonstrating the value and quality it offers customers. It also hoped to grow business revenues by boosting sales.
Kristoffer Olofsson, partner, Precis Digital, said: "Facebook's rich targeting options, paired with sophisticated DPA campaigns, have continuously exceeded our expectations. They have enabled us to successfully re-engage with the visitor base by displaying the most relevant products at the right time, as well as to reach important insights about key audience groups, affecting our marketing strategies as a whole."
The Solution
Matsmart worked with local agency Precis Digital to design and run effective prospecting campaigns on Facebook. These campaigns were segmented by the main target audiences, grouped mainly by demographics, and designed to drive brand new visitors to the website. With a steady flow of new web traffic, the teams then ran highly relevant dynamic ads featuring different products, which were based on different Facebook user profile segments.
The results
By consistently segmenting audiences and tweaking campaigns accordingly, Matsmart has driven conversion costs down and revenues up. Between October 2015–March 2016, it achieved:
• 1.6X increase in overall revenue from Facebook campaigns
• 84% increase in website revenue over 3 months
• 4X return on ad investment over 6 months
Ulf Skagerström, co-founder & partner, Matsmart in Scandinavia AB, said: "Facebook has proven to be a great channel for growing our business online. Its advanced remarketing features, as well as the granular audience data, is now an important part of our overall marketing efforts."