Having launched a Russian website and social media presence, ASOS wanted to scale their activity in this market. The online clothing retailer worked with agency Forward 3D to win over 65K fans at a cost of just £0.66 per fan.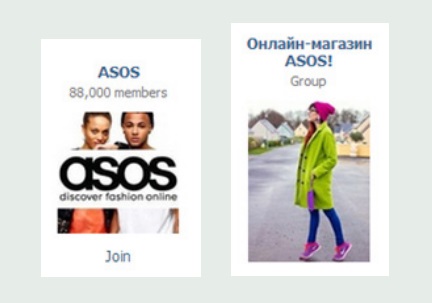 Case study summary
• Clothing retailer wanted to boost fans in Russian expansion
• Two-phase approach focuses on customer acquisition and conversion
• Used social network VK with cost per click (CPC) targeting and the Paid Post
Marketplace
• Tested around 15 different fan acquisition campaigns weekly
• Delivered just over 65K fans at a cost of £0.66 per fan with site traffic from Yandex up 75%.
The challenge

Forward 3D's objective Key achievements Given the scale of the market and ASOS' relatively small presence in Russia at the time, Forward 3D's objective was to rapidly boost brand awareness among the identified target audience - Females, aged 18-29 and living in either Moscow or St Petersburg.
The more specific objective was to acquire 65K new fans on VK (Russia's mostused social platform) via biddable fan acquisition activity within 4 months, at a specified (and tight) maximum cost per fan.
It was also expected that the rapid growth in the number of ASOS fans on VK would boost traffic to the website and overall sales in Russia.

The solution
Given the client's expectations for a rapid increase in the number of fans, and consequent incremental increases in traffic and sales from social channels, a two-phase approach was suggested which separated these goals:
1. Firstly, to concentrate on the fan acquisition campaign, and to meet Forward 3D's target under budget.
2. Secondly, to assess the conversion of Forward 3D's acquired fans into visitors and shoppers via testing commercial campaigns.
For both stages, Forward 3D continually measured, audited and optimised Forward 3D's activity to ensure that Forward 3D were delivering the strongest possible results.
For the first phase, a wide variety of targeting methods and tools were tested including VK cost per click (CPC) biddable advanced targeting options (these allowed us to advertise directly on the newsfeeds of individuals) and the Paid Post Marketplace options, which allowed us to advertise on relevant groups and communities. Forward 3D also ran the results from Forward 3D's testing through analysis software to ensure that Forward 3D were using the most effective methodology.
VK CPC biddable advanced targeting: ASOS tested around 15 different fan acquisition campaigns weekly. As a part of Forward 3D's campaign optimization Forward 3D also tested different image variations and ad copies, a mixture of ad formats such as large image, image+text and a "join us" button, together with a mixture of 3 types of targeting. These included using competitors, the most popular brands sold on ASOS and other fashion related targeting.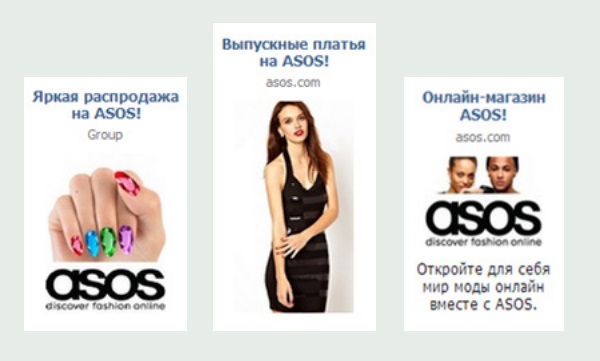 Paid Post Marketplace: Forward 3D identified the most popular and relevant VK Groups (interest-based communities / discussion boards), analysed the audience and their individual interests, created tailored posts based on this research and then promoted them within selected groups using VK's paid post marketplace tool.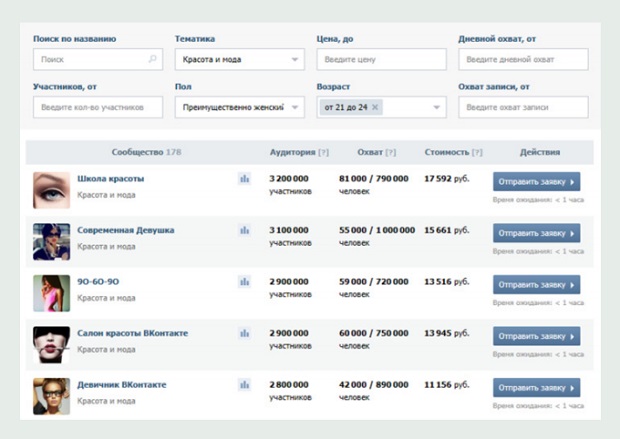 In the second phase, the big integration of social media into ASOS' wider digital marketing goals, the results were also strong.
For the second phase, Forward3D worked closely with the client to ensure that commercial campaigns run through Forward3D on VK were closely aligned with the client's on-site content, promotions and margin targets. Lastly, while working on the VK project, the Forward3D team remained dynamic and co-operative to ensure cross-channel support between the social and SEO teams.
The results
After 3 months, Forward3D had met the phase 1 target and delivered just over 65K fans at a cost of £0.66 per fan, which far outperformed the client's expectations.
Aided by the brand's activity on VK, site traffic from Yandex increased by 75%.
Brand traffic from Yandex (Russia's most popular search engine) increased by 75% over the same period, no doubt aided by the increased brand awareness from Forward 3D's social activity. Furthermore, assisted conversions measured from VK increased by 53% and assisted revenue also grew by 29%.
The combination of wide scale fan acquisition and commercial campaigns on VK placed ASOS in the minds of these new fans when shopping, and this was seen in the knock on impact in search behaviour that Forward 3D observed.
Lastly, a short commercial campaign test, which ran for just over a week, delivered 41 direct transactions at 50% higher ROI and conversion rate than was seen in PPC search campaigns over that same period. Social is often classed as simply a branding channel in other markets, and yet Forward 3D have consistently seen its direct selling potential in Russia.
Vladimir Dolgopolov, Russia Country Manager at ASOS, said: "Forward 3D have been working with Forward3D from day 1 of the ASOS Russia site. They are extremely results oriented and
always keep a close eye on campaign performance, helping us to improve business profitability. The team has amazing local knowledge and great experience. They are always willing to go the extra mile and try new things."
Search is often the default channel for consumers when they reach the stage of being ready to make a quick purchase, and Forward 3D see this via audience signals of intent.
For advertisers however, it can sometimes be too late at this stage to influence that consumer's purchase, particularly if you're operating in a new market and awareness of the brand's offering is not as high as regional competitors.
Focusing on the earlier stages of the sales funnel therefore, to build awareness and help to place your brand in the minds of consumers before they actually go to make that purchase can be very effective when used in combination with wider search campaigns.
On average, Russians spend 10+ hours on social networks every month (second in the world), which represents a huge commercial opportunity for advertisers wanting to reach a Russian audience.
Having already launched a local website and a social media page on VK, ASOS wanted to scale their online presence in this region. Forward3D helped ASOS turn social media not only into a key customer acquisition channel, but one that had a positive impact on search too.
Assisted conversions from VK increased by 53% and assisted revenue grew by 29%.