Knowing that their core audience of busy mums and dads lead increasingly mobile-centric lives, Butlin's relaunched their mobile website and promoted it using a highly-targeted mobile-first search campaign.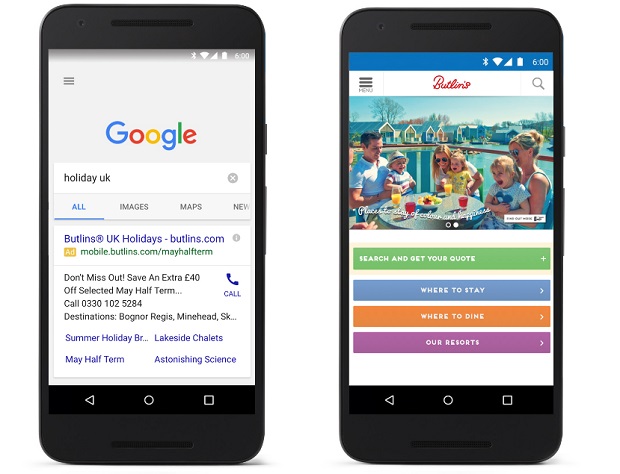 Case study summary
• Very precise real time targeting and an ultra-relevant message drives increase in Click-Through-Rate and conversions
• Used insight that British families' choice in holidays is highly influenced by the weather
• Designed a weather responsive campaign that showed ads only in areas experiencing bad weather
The challenge

Butlin's, a travel company offering British seaside breaks, wanted to increase their year-on-year revenue by 5% and challenged their media agency, MEC, to push their search budgets further.
The solution
Using the famously grey and gloomy British weather as inspiration, MEC created a campaign that would deliver messages to areas of the UK that were experiencing bad weather. The core campaign insight was that the weather has a big influence on if customers want to holiday in the UK or abroad. MEC were able to prove their hypothesis by examining search conversion rates, which dropped by 18% when it rained.
However, Butlin's already offer a weatherproof area for families to enjoy activities and entertainment when it rains, so MEC designed a campaign with the strapline 'Rain Never Stops Play'
MEC created a bespoke technical solution that would allow them to incorporate real time weather data in their search campaign. This involved three steps – getting real time weather data, creating an algorithm that adapted their bidding in response to areas experiencing rain and then using those signals within their AdWords search campaigns. Then the brand delivered an ultra-relevant message to potential customers.
The results
• Click-through-rate increased by 28%
• Click-to-quote conversion rate increased by 7%
• Exceeded revenue target by 124%