Internet users are talking to their phones (and digital assistants) much more, meaning that brands need to prepare for a hands-free future in digital. Following the user trend, Domino's was the first company in the pizza and quick serve restaurant industry to let its customers order their favourite pizza by speaking to Alexa, the Amazon Echo digital assistant.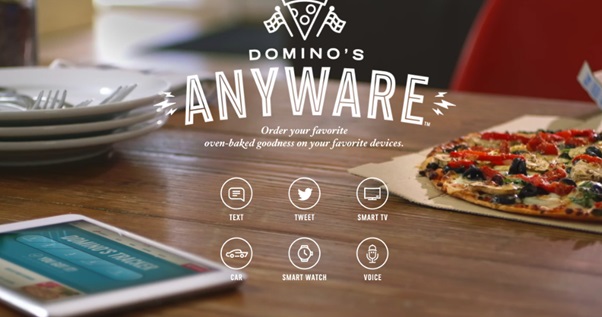 Case study summary:
• Customers can now order a pizza by talking to Alexa
• Domino's was the first company in the pizza and quick-serve restaurant industry to support ordering by way of Amazon Echo's digital assistant, Alexa

The challenge
User behaviours are changing in digital, more and more people are using voice commands to carry out tasks they once would have tapped through steps on an app for. The use of digital assistants such as Alexa, and Amazon Echo the internet connected speaker now make it easy for people to do a range of activities. Domino's has reacted to this change in behaviour, and wanted to ensure that it offered a way for the digitally savvy to order a pizza conveniently following this new trend.
The solution
In order to stay on top of trends and allow users to order a pizza in a convenient way for them, Domino's has upgraded its ordering platform to allow customers to order via Amazon Echo's digital assistant Alexa.
Customers need to set up user profiles through Domino's website, create an "easy order" and enable the Domino's "skill" through Amazon's Alexa app so that they can have a pizza ordered by saying "Alexa, open Domino's and place my Easy Order." Customers can also track their order progress with certain voice commands. The voice-controlled solution should make it easier for consumers to order a pizza, which would ideally result in a higher number of delivery orders being placed.
The only trouble is that the feature is still hindered by Alexa's need to have requests phrased in a certain way. This is not just an issue only for Domino's, but one that plagues the platform as a whole. In the future you should be able to tell Alexa to simply "order pizza." Alexa should be smart enough to connect the request to the given app
The results
It's early stages for the technology but as sales increase for hardware like the Amazon Echo, we expect more and more people to start ordering pizzas this way.