In April 2017, Pepsi came under fire a video ad where reality TV star Kendall Jenner used a can of Pepsi to soothe tension between protesters and police, sparking accusations that it exploited the "Black Lives Matter" movement. This case study looks at what went wrong for the soft drinks giant...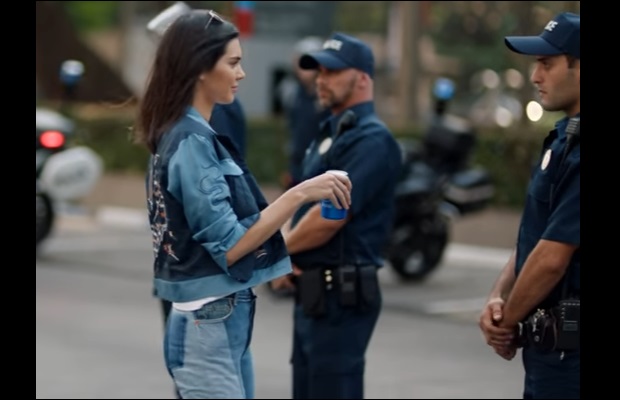 |The advert
The advert saw the reality TV star and model giving a can of the drink to a police officer during a protest.
It shows the Keeping Up WIth The Kardashians star leave a photo shoot to join a protest where activists are carrying signs that read "love" and "join the conversation".
The original advert no longer exists but an unofficial version can be viewed below:

The reaction
The two and a half minute ad featured a track by Bob Marley's grandson Skip Marley. The video was posted on YouTube on 3rd April 2017) and was been viewed over a million times on the Google-owned channel. Withi a few days, it had ammassed just 2,000 likes and a shocking 14,000 dislikes.
The commercial was criticised by people who have interpreted it as a co-opt of the resistance movement whilst featuring a privileged, white, famous young model using a drink sold by a massive conglomerate to create peace between activists and law enforcement.
Pepsi released a statement which said: "This is a global ad that reflects people from different walks of life coming together in a spirit of harmony. We think that's an important message to convey."
However, many on social media have been critical of the ad.
Here's some examples:


who else is reminded of Dr Martin Luther King's famously resonant "I have a Pepsi" speech pic.twitter.com/xX5h3it3d1

— Scott Ludlam (@SenatorLudlam) 4 April 2017
"Kendall please! Give him a Pepsi!" pic.twitter.com/IntFNmCpTr

— Zito (@_Zeets) 4 April 2017
So... I guess my country needs more than a #Pepsi. #Venezuela #PepsiCommercial pic.twitter.com/rNaB9ho2Ng

— Gabriela B. (@Gabyte_B) 5 April 2017