Chick fil-A has a transactional mobile app, but users were confused about the payment options due to the app's layout. This case study looks at how the US fast food giant leveraged Taplytics to enable mobile commerce and reduce customer payment option complaints.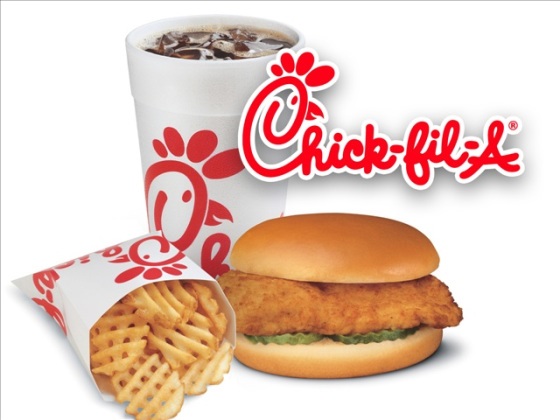 Case study summary
• Customers unaware that they could pay using their credit cards, resulting in countless customer complaints.
• Made payment options clearer through different A/B testing solutions.
• Measured baseline of payment flow to find a successful variation that helped increase credit card payment use
• Increased credit card payment use on their mobile app by 6% as complaints fell to zero
The challenge
Chick-fil-A is a family style restaurant specialising in chicken dishes with their trademark menu item, the Chick-fil-A Chicken Sandwich. Today there are well over 2100 restaurants across 46 US states and over 11 million downloads of their mobile ordering app.
Users were confused about payment options. The credit card payment option was not clear, which resulted in a disrupted payment flow and increased user complaints. Chick-fil-A's payment system allows customers to pay directly with their credit card without loading money onto an in-app gift card.
However the payment option layout was confusing, and customers were unaware that they could pay right away using their credit cards. As a result, Chick-fil-A received countless customer complaints about this misconception.
When the app first rolled out in 2016, Chick-fil-A relied only on monitored customer reviews and support calls. They were unable to monitor the impact changes made in their app had on their customers.
Jay Ramirez, Product Owner, Chick-fil-A, said: "Without any sort of data-driven system, it was
really just guessing whether or not we were making the product better over time. "
The solution
Chick-fil-A's mobile app was created as a solution to the long wait time customers were
experiencing.
Users could navigate Chick-fil-A's menu and place their order accordingly, which
gave Chick-fil-A another channel to offer customers a personalized experience.
Both providing these curated interactions and listening to customer feedback provided through the app have largely contributed to the restaurant's success today.
Taplytics' visual A/8 testing solution and analytics dashboard armed Jay and his mobile team with data that helped them take their app to the next level.
Taplytics measured the baseline of their payment flow and gave the mobile team the ability to quickly iterate on ideas.
As a result, Jay and his team were able to find and test a payment flow that better highlights the credit card payment option.
The accuracy and timeliness of the visual test allowed for better data when it came to product decision making.
The winning variation increased credit card use by 6% without disrupting the already incredible
conversion rates they had.
Chick-fil-A's visual test proved the importance of clearly showing the "pay with credit card"
button as the winning variation that reduced customer complaints.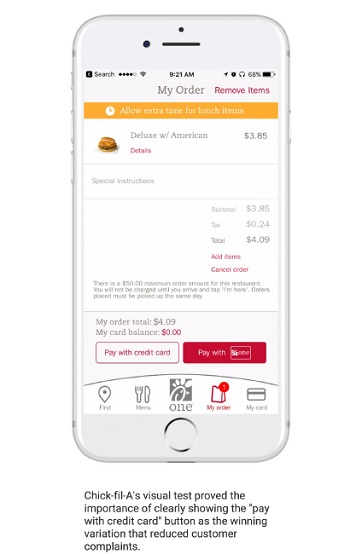 The results
• Chick-fil-A increased credit card payment use by 6% using Visual A/B Testing
• Mobile Downloads up 11,000,000 +
• 6% Increase in use of credit cards
• 0 Customer payment questions as a result

"With Taplytics' visual A/B testing solution, we saw a huge bump in credit card purchases once we introduced our new payment flow. The number of customer payment option complaints dropped to zero, meaning customers are much happier with their Chick-fil-A experience," Ramirez added.