Reality show Love Island UK series helped the show's official sponsor Missguided, double website visits from the television show's fans. This case study looks at how the clothes retailer, and other brands in the 'fast fashion' industry got a boost from the popularity of the ITV show.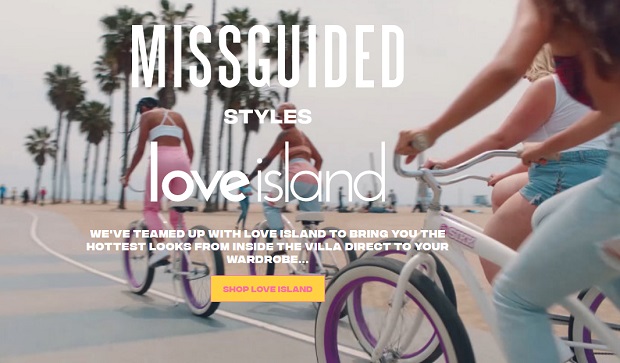 According to Hitwise, the UK's leading data insights provider, Love Island fans drove a 97 per cent increase to Missguided.co.uk during the two-month period the show was aired[i]. The popularity of the television show also had a knock-on effect on the rest of the UK population, with Missguided.co.uk visits from the general public rising by 9 per cent, too.
Analysing the search behaviours of 3 million online consumers, Hitwise, the UK's leading data insights provider, can reveal:
- Love Island fans drove a 97% increase to Missguided.co.uk during the two-month period the show was aired
- Shein was the fastest rising brand, with visits up 117% from Love Island Fans
- Fast Fashion websites now account for 66% of all fashion traffic
Fast fashion etailer Boohoo was also a winner from Love Island fans, as the site saw a 75 per cent uplift over this same period, along with newcomer, Shein. Despite no direct association with the ITV series, Shein saw visits up 117 per cent from the show's fans, in addition to a 30 per cent rise from the general public.
In the first half of 2018, Shein was also the fastest rising online fast fashion brand, as it saw a massive 744 per cent increase in website visits. In at second and third place were Oh Polly (446%) and Nasty Gal (158%) respectively.
Source: Hitwise (Fastest Rising Fashion etailers in H1 2018, YoY)
The new research from Hitwise reveals Fast Fashion websites account for 66 per cent of all fashion traffic.[ii] These brands are clearly dominating over falling online visitors to high street brands, as the likes of Zara (-3%), Abercrombie & Fitch (-9%) and Forever 21 (-18%), struggle to gain online traction.
Source: Hitwise (online visits to select high street brands in H1 2018 YoY)
With 2018 starting off with rising rents, declining wages, and turbulent weather conditions, Love Island has made an astonishing contribution to the online fast fashion industry, despite today's tough retail conditions.
Lisa Luu, Global Head of Insights at Hitwise, says: "The middle of summer typically sees a dip in online fashion activity as Britons travel and enjoy their summer holidays. But television shows, like Love Island, have been an effective springboard for Fast Fashion brands to grow throughout the summer. The success of Missguided and Shein in the past two months show that audience-based marketing never takes a rest. These fast fashion brands have been able to capitalise on the mega-popular television show, capturing the latest consumer trends through replica fashion items and relevant content. With a number of household brands failing to see online and offline growth, it's crucial to keep tabs on target audiences' needs and interests, in order to stay relevant in the current retail climate."
For more insights you can read the Hitwise UK Fashion Report, here.