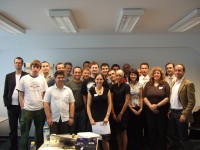 Gratulacje dla wszystkich uczestników zaawansowanego kursu z marketingu w wyszukiwarkach!
To było pierwsze szkolenie Digital Search Engine Marketing prowadzone przez Digital Training Academy w Polsce (zobacz stronę poświęconą temu szkoleniu). Organizatorzy przyznają, że to była świetna sesja, którą dopełniły ciekawe komentarze uczestników i bogactwo spojrzeń na SEM z różnych perspektyw biznesowych. Danny'emu Meadows-Klue i Ann Stanley, brytyjskim ekspertom od marketingu w wyszukiwarkach, którzy prowadzili szkolenie, świetnie pracowało się z przedstawicielami branży internetowej w Polsce.
Po sukcesie tego kursu, Digital Training Academy powraca do Polski oferując więcej szkoleń.