Back in 2012, AT&T ran a Facebook campaign to promote some of its 4G phones. The "You've Got A Case" app accesses their Facebook profile to generate a customised video that let the user "make a case" to their friends and family of why they should purchase them a new smartphone . This case study looks at how the communications giant made smart use of social media apps to get a record –breaking quarter for smartphone sales.
Case study summary
• AT&T create an engaging and original Facebook application that puts user into a courtroom
• First ever project to show Facebook videos both on desktop and mobile devices
• Nearly half a million people users with CTR 5 times higher than benchmark
• AT&T's 4G smarpthone sales boomed—marking a record quarter
Challenge
AT&T wanted to help young people convince their parents they deserve a new 4G smartphone for the holidays. But smartphones are pretty pricey gifts. If they really deserve one, they'd need a convincing argument. So we created Kent Wesley, the world's #1 Facebook attorney, to help them prove that they really deserve one.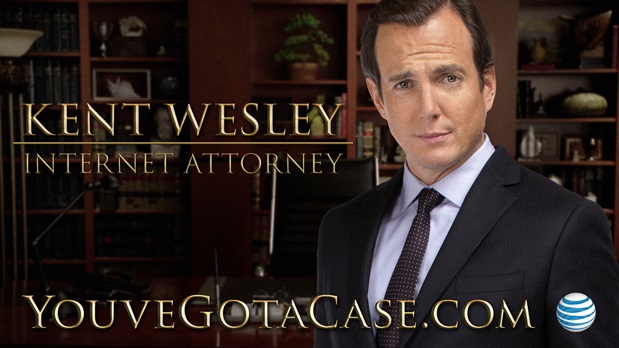 Solution
Agency BBDO positioned Kent as a real attorney, complete with his own digital ad campaign and accompanied by all the design elements one might find in a fancy law firm: marble, mahogany, gold inlay, antique globes, the works.
People visit Kent in his stately Facebook office via the 'You've Got a Case' application, where the interface is worthy of Kent's high-paying clients.
Using the You've Got a Case app, youngsters hire super-attorney Kent Wesley to convince their parents to buy them a 4G smartphone.
With the help of a random selection of expert witnesses who testify on their behalf, Kent spins their Facebook info into an airtight legal argument. Their personalized case video plays in a luxurious frame with golden ornaments for all of their friends (and their gift-givers) to see. And their case video also posts directly to your defendant's Facebook Wall—along with a link to "settle out of court" by buying them the phone.
Well known actor Will Arnett (of Arrested Development fame) played the part of Wesley. The user's choices of phones were the HTC Vivid,Samsung Galaxy S II Skyrocket, HTC Inspire 4G, BlackBerry Torch 4G, and Samsung Captivate Glide.
Results
By making the campaign an appeal from one Facebook fan to another, sharing was built-in. It was also the first project ever that allowed people to generate and view Facebook videos both on desktop and mobile devices.
Nearly half a million people consulted Kent, and click-through rates to purchase were up to five times the benchmark. Thousands of cases were created and shared, and AT&T's 4G smarpthone sales boomed—marking a record quarter.
The campaign generated almost 12 million earned impressions, a media value of almost $1.5 million. It garnered an 87% positive sentiment on social impressions. Of all the participants, 56.5% of them were aged 13-24, and the media CTR performance more than doubled the youth benchmark.