In 2015 InSkin Media (ISM) Singapore partnered with Mediacom to help promote Audi's new A1 Sportback Model. The ad encouraged users to interact with the creative with buttons to change the colour of the car.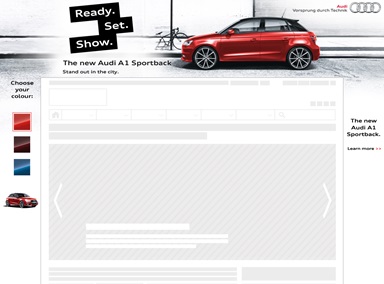 Case study summary
• For Audi's A1 Sportback campaign they partnered with ISM to create a bespoke creative ad encouraging user interaction
• The results showed a 2.47% CTR and 110.73 seconds average dwell time per impression
Challenge
Audi wanted to increase brand awareness during its campaign for the Audi A1 Sportback by creating an ad that would encourage user interaction.
Solution
Audi decided to partner with ISM Singapore to create a page skin that ran across desktop and tablet showcasing their latest car model in the extended header unit.
Working closely with MediaCom, ISM's Creative Solutions team designed a bespoke creative that encouraged user interaction with the ad – as the user scrolled the page, they were invited to change the colour of the car with buttons in the sidebar. When the car colour was changed, the Audi A1 car would drive across the screen behind the website content.
Results
• 2.47% CTR and 30.3 seconds average post click dwell time
• 110.73 seconds average dwell time per impression
• 388,561 viewed impressions
• 154, 737 unique users