Online marketing for travel or airline brands
A Digital Marketing Strategy Academy for travel or airline brands, customised to the specific needs of your brand and your team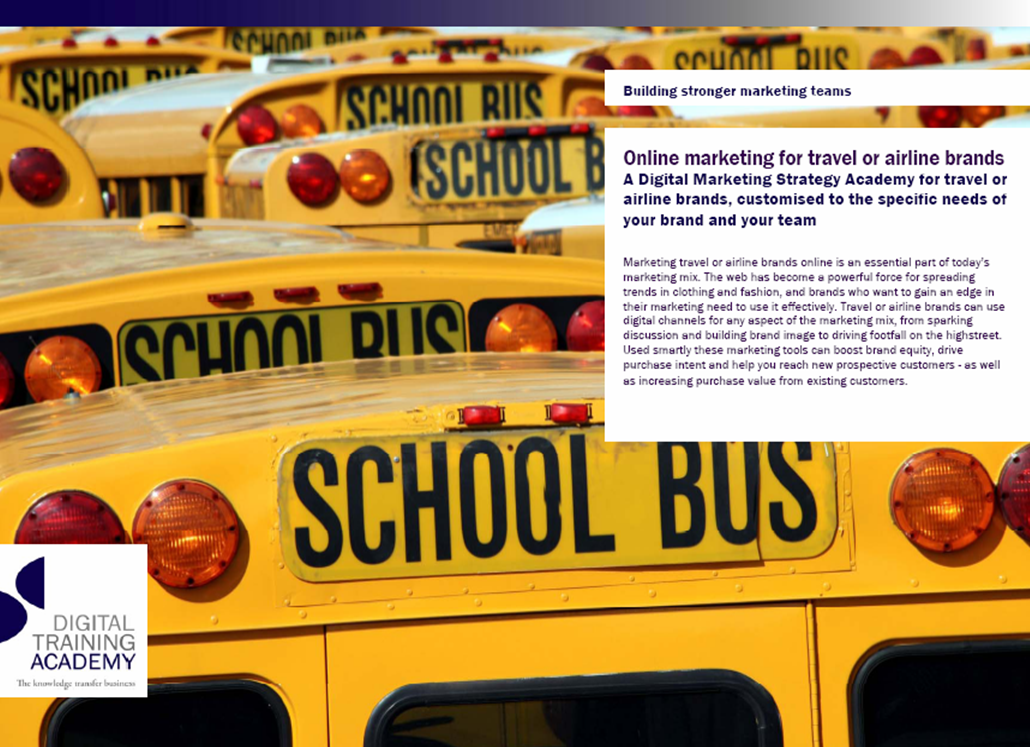 Marketing travel or airline brands online is an essential part of today's marketing mix. The web has become a powerful force for spreading trends in clothing and fashion, and brands who want to gain an edge in their marketing need to use it effectively. Travel or airline brands can use digital channels for any aspect of the marketing mix, from sparking discussion and building brand image to driving footfall on the highstreet. Used smartly these marketing tools can boost brand equity, drive purchase intent and help you reach new prospective customers - as well as increasing purchase value from existing customers.
In this digital marketing academy we showcase the smartest ways travel or airline brands can be marketed online. We show you the techniques and then practice them together in workshops focussed around the priority business goals your firm faces today. In the Online Marketing Training for travel brands, your team will learn about the latest models and approaches for building brand image and consumer connections through the web, email, social media, your own brand websites and mobile marketing platforms.

Enquire about bookings | Request a skills assessment

This Online Marketing Training for travel brands will show how to maximise the ROI you can get from your marketing budgets and both where and how to apply digital in your marketing mix. We'll cover the common pitfalls in developing digital marketing campaigns, as well as giving you practical tips on effective agency management.
How to develop effective digital marketing campaigns
How to maximise the balance between bought, owned and earned digital media
How to integrate digital campaigns into classic media
How to build travel or airline brands through digital marketing
How to measure and evaluate online marketing campaigns for travel or airline brands
How to improve the impact of your creative messages in digital marketing
How to build relationship marketing programmes for travel or airline brands
How to manage your digital and advertising agencies most effectively
We will design the right exercises to help your marketing leap forward in today's tough landscape by assessing where your business and your competitors are today, and then devising a management coaching programme that will ensure you leap forwards.
The Online Marketing Training for travel brands is normally a three day residential training programme and can be designed for experienced internet marketing teams as well as those relatively new to online marketing.
To talk with a tutor about scoping the right Online Marketing Training for travel your brands, Email tutors@digitaltrainingacademy.com