Search engine marketing training: How can I stay high up in SEO?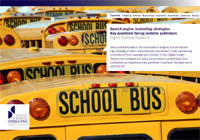 Create news to boost SEO rankings
Get more value from SEO by harnessing news events in your sector with regular updated content. Use H1 and H2 tags as a way to let Google and the engines know that the content is important, and as with regular copy write material with keyphrase density and frequency in mind.
If your brand is linked to a sporting event then harness the latest news and language of the event to get relevant