Emetrics Summit London 2007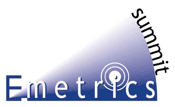 Welcome to the Emetrics Summit in London.
Danny Meadows-Klue joined the Emetrics Summit team to explore the challenges of measuring online advertising effectively in the world of Web 2.0 marketing and publishing. This Academy draws on themes facing data analysts today. There are ten core lessons and heaps of practical advice. Once you have downloaded the materials why not post a question in the classroom page here at the Digital Training Academy.
Video kindly produced by David White of search engine marketing firm,
Weboptimiser Group Ltd.