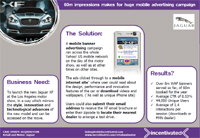 Mobile enhances passenger experience for BA
A mobile banner advertising campaign across the whole Yahoo! US mobile network
on the day of the motor show, as well as at other times on other sites. The ads clicked through to a mobile internet site* where user could read about the design, performance and innovative
features of the car or download videos and wallpapers. (*As well as unique iPhone site) Users could also submit their email address to receive the XF email brochure or enter their zipcode to locate their nearest dealer to arrange a test drive.