ASOS ran a Facebook campaign to generate sales and excitement ahead of its summer sales campaign. For the launch ASOS used Facebook Pages, Ads and Sponsored Stories to increase revenue from a summer sale event on the ASOS website. It built a custom application on the ASOS page that allowed fans to play a series of four games. All of this helped ASOS's fan base grow by 32%.
More on this case study…
Brand: ASOS | Sector: Clothing | Objective: Build brand engagement | Format: Facebook, Social Media |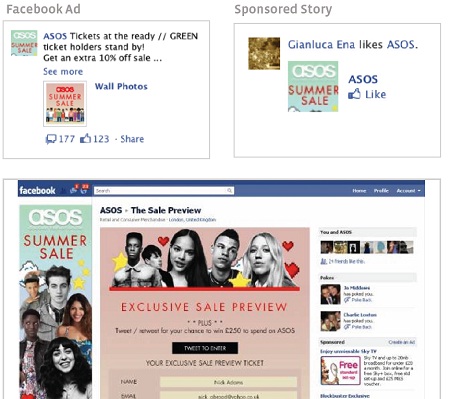 Players who earned the most points went to the front of the virtual queue and could access the sale immediately when it began at 5 p.m.
Those with fewer points remained further back in the queue and were given access for 30-minute time slots later in the evening. ASOS also engineered its campaign to ensure that people would return to the sale by giving away offers and discounts.
ASOS Results
The 2nd day of the June sale, was the biggest sales day for ASOS at that point in time and it saw 174,000 people join the virtual "queue" during the campaign.
On top of that there were 715,745 application shares – inviting people to join the virtual queue and the application was seen more than 1 million times.
All of this helped ASOS's fan base grow by 32%: "The more fans you have on Facebook, the more your campaign spreads. So, there is great value in increasing your fan base. Leveraging your fan base and incorporating social context are such powerful marketing mechanisms," according to ASOS.