To promote its new line of Persil's Dual Action liquid capsules Unilever worked with AdLabs to create a fun alternative to the usual captcha verification screens. To pass security, Persil are asking users to prove they're human by dragging stain-removing microgranules into the centre of one of their new. The completed capsule then demonstrates its stain removal power by passing over a stained t-shirt to reveal a bright white result.
The game was developed by UK-based technology firm Future Ad Labs, and marks a development in Unilever's engagement with consumers in this area. Last year, the company replaced the Captcha words with its "lasts just as long" brand messaging for its compressed Dove, Sure and Vaseline deodorant cans.
Rosalind Brown, marketing manager for laundry at Unilever UK, said: "Unilever UK is always looking for new ways to engage consumers through interesting and innovative formats.
"We are delighted to introduce the Persil Dual Action Capsule in a 'PlayCaptcha'. We consider it to be a breakthrough in advertising as it is a fun and innovative way for us to effectively communicate with our target audience, building brand sentiment and engagement."
The completed game shows a brand message from Persil, promoting its unique selling point (in this case stain removing microgranules):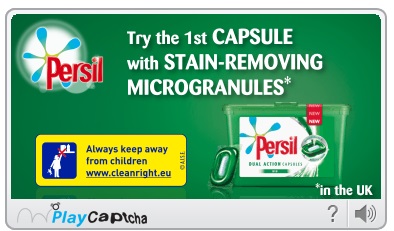 The game appeared on verification pages as displayed below:
Results:
The campaign proved a huge hit Unilever's target audience for Persil. An independent study found that two-thirds of respondents preferred PlayCaptcha to banners and videos, while 72% said it was not intrusive to their online experience. After interacting with the ad, a whopping 80% felt favourable towards the brand.