A B2B shipping firm doesn't sound like the most exciting social media brand in the world, but back in 2012, Maersk caught the attention of many (including Facebook itself) after it managed to generate tidal waves of traffic by spinning mundane overseas haulage journeys into tales of high seas adventure. This case study looks at how the firm used a raft of social media platforms to engage with customers… eventually generating more engagement on its Facebook than Disney.
Maersk Line is the largest container shipping company in the world with over 500 vessels and 25,000 employees operating out of 325 offices in 125 countries. In 2010 their revenues were nearly $ 24bn.
The Danish company first began using social back in 2011 as an experiment to see whether its customers would interact with them in the same way as in B2C industries.
Over a 30 month period Maersk Line improved their Net Promoter score (a commonly used customer loyalty metric) from -10 to +30. This huge improvement was achieved through strong customer relations and a rejection of the typical 'social as sales channel' approach.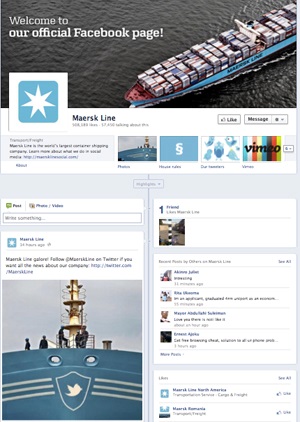 Strong content, not hard sell
Working with agency Beyond Philosophy, Maersk started a 'Customer Initiative'. Unlike the majority of B2B marketers online, Maersk Line rejected the idea of using social media primarily for lead generation or customer acquisition. Instead, the brand focused on sharing relevant and engaging content in the form of powerful and interesting stories.
See below another example of the content put out by Maersk on social media:
Social CRM at the centre
Maersk put social at the centre of its CRM programme. The communication team uses Facebook to reach out to followers which include NGOs, employees, potential employees, competition, suppliers, regulatory bodies and "a surprisingly large crowd of shipping nerds and enthusiasts.
Maersk Line counts 7,000 seafarers amongst its 25,000 employees, so Facebook has become an important channel for them to connect with colleagues, people at home, and follow what the company is up to.
This team has published a huge number of pictures from their every day work including pirates coming close in the Bay of Aden or dramatic pictures from the bridge in heavy weather at deep sea.
Similarly, Maersk managed to drum up 150 unique leads from a Facebook campaign it ran last year telling the story of how its shipping containers navigate the frozen Baltic Sea during winter.
The Facebook page linked to a site that hosted a form where users could fill in their information to download a brochure about the company's anti-freeze services.
In addition, the team monitor Twitter as part of its media relations strategy. Maersk Line has ten official tweeters, which include the chief commercial officer, the head of anti-piracy and business managers. The communication team has used internal blogs to spot potential tweeters to amplify their messages.
Bigger than Disney
Maersk now has more than 1.5m Facebook fans (of which around 15% are customers) and 12,000 Twitter followers, as well as active accounts on Instagram, Tumblr, YouTube, Google+ and LinkedIn.
Its presence on each network is tailored to that platform, so for example on LinkedIn it promotes job vacancies and publishes articles about the work culture within the business, while on Instagram it encourages followers to post photos of its ships using the hashtag #Maersk.
According to a recent global study, Maersk is second only to Lego in terms of engagement on Facebook. Even Facebook itself has contacted Maersk Line to find out how they managed to generate so much traffic in such a short time- truly a mark of social media success.