Back in 2010, Bosch had a problem- it had two thriving B2B social media platforms but couldn't determine which manual trades preferred Facebook and which ones visited its bespoke community 'Bob'. This case study looks at how the electronic tool maker used CRM software to better understand its diverse audience behaviour and market to select trades more efficiently on the right social media channel.
Read this slide presentation explaining how the CRM process worked below:
The B2B arm of Bosch, known as Bosch Professional Power Tools, supplied various professional trades including the electrical, wood working and building industries with professional power tools, covering forty countries within Europe.
Due to the diversity across its target market, Bosch Professional Power Tools runs various social media services within its CRM programme, intended to reach all trades and demographics.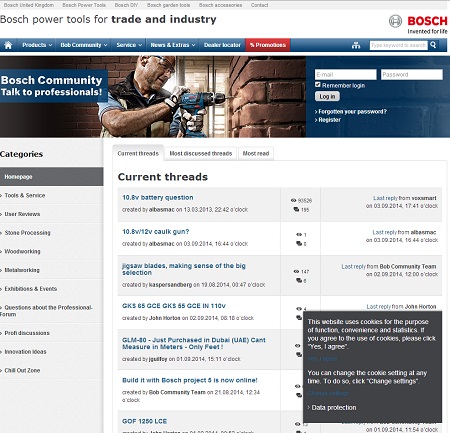 A diverse and divided social audience
The firm provided a social media service - the 'Bob Community' - which is accessible from its website. Towards the end of 2011 the Bob Community had attracted 460,000 visitors with 35,000 registrations. By comparison, its new company Facebook page had attracted 4,000 fans.
As a result, Bosch needed to determine whether its investment in Facebook was reaching the desired demographic, and to measure the value of its Facebook fans compared to that of Bob Community users.
Using this data, Bosch could then allocate the right amount of marketing resources into each channel and produce a focused social media CRM programme.
The company also aimed to build relationships with key customers who, it felt, would significantly influence the purchasing behaviour of other Facebook fans and visitors to the fan page.
The challenge was to foster a relationship with these 'brand advocates', and to continue to facilitate positive interaction amongst the community, through an increasingly focused social media programme.
Key questions
Bosch Power Tools' goal was to find out whether the marketing investment on Facebook is worthwhile.
• Do we reach new target groups?
• How valuable are our Facebook fans in comparison to the members of the professional community, for example?
• How much overlap is there between Facebook and the professional community?
Such findings are needed in order to implement marketing resources in a targeted manner, and to align all activities so that they are of optimal value to the company.

Qualitative and qualitative data reveals trade secrets

To monitor its social audience, Bosch selected the Social Insight tool by Globalpark, a QuestBack company. The software collects and analyses both qualitative and quantative information to help understand its social media audience interaction, as well as the professional trade that most frequently makes use of particular social media services.
Ivar Kroghrud, CEO of QuestBack comments that "social media plays an increasing role in today's communication between brands and customers. Facebook is an amazing channel for building brand awareness and represents a way for people to directly connect with the brands and products they care about. However, organisations are yet to leverage the full potential of this meeting place".
Social CRM software fully integrates into the Facebook fan page, collating Facebook users' profile data and direct feedback from their interactions with the page, creating a comprehensive profile of the individual consumer. This provided Bosch Professional Power Tools with statistical data from its social media CRM programmes through a fully integrated system, constantly analysing the profiles of users.
Results show that Facebook audience is separate (younger) audience
By dividing the professional industries into separate trades, Bosch Professional Power Tools was able to quantitatively assess which trade used which social media service.
1. One result showed that an above-average number of Bosch fans on Facebook are woodworkers. Bosch Power Tools reacted to these findings with a specific approach to this target group, e.g. through the staging of power tools used for woodworking.
2. Bosch was able to positively answer the question regarding the overlap between the Bob Community and the Facebook fan page: Only about 11% of the Bosch Power Tools social media users are active on both the Bob Community and Facebook. This means that addressing a new target group on Facebook was successful. The results show in particular that the planned recruitment of vocational trainees was successful.
This analysis affirmed the importance of both the Facebook fan page and the Bob community to ensure that all of Bosch Professional Power Tools target markets were covered through a bespoke and focused social media programme