A perfect example of online amplification of offline experiential PR. In March 2014, shoppers and commuters at the Marina Bay Sands promenade in Singapore were treated to a rare street performance by Singaporean Water Calligraphy Artist, Alew Liew as part an eye drop campaign.
His performance was part a brand experience campaign to promote Eye Mo, in partnership with Cohn & Wolfe, a moisturizing and anti-irritant eye drop, and educate them about the dangers of dry eyes, which became an especially relevant issue during Singapore's worst dry spell in decades.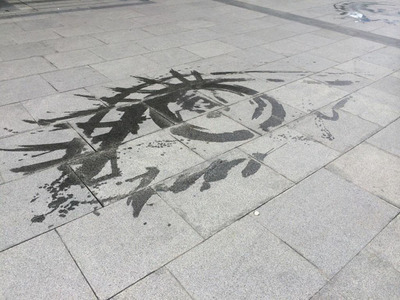 The performance from Liew featured water-based drawings of beautiful eyes on pavement in public areas. As the water "eyes" dried away in the heat and haze, a multilingual promotional message was delivered via speakers in the areas, encouraging viewers to use Eye Mo to prevent dry eyes. With the support of coverage from local news and art communities, "Water Eye Performance" was a simple but innovative idea, resulting in an ROI of over three thousand percent.

"This campaign leveraged an urgent local health issue to capture the attention of local residents, linking a simple, beautiful art campaign to Eye Mo's benefits," said Donna Imperato, Chief Executive Officer, Cohn & Wolfe. "I'm proud of our team for the insight they brought to this campaign."
By employing culturally and contextually relevant strategies that resonate with consumers, the brand reminded Singaporeans to adopt healthy eye care practices amidst the hot weather.

"I am honoured to be part of this event. This great opportunity presented by Eye Mo allowed me to share my love for the art of Water Calligraphy to the public in a unique manner. I am really pleased that the audience were very receptive towards the showcase and were really interested to find out more about water calligraphy." said Liew.
Watch the promo video here: