With a presence in 75 countries and nearly 200,000 employees worldwide, BNP Paribas is a major bank in the euro zone and the fourth largest bank in the world.This case study looks at how the bank used a multi-channel approach with a dedicated banking app that boosted its customer ratings by 60%.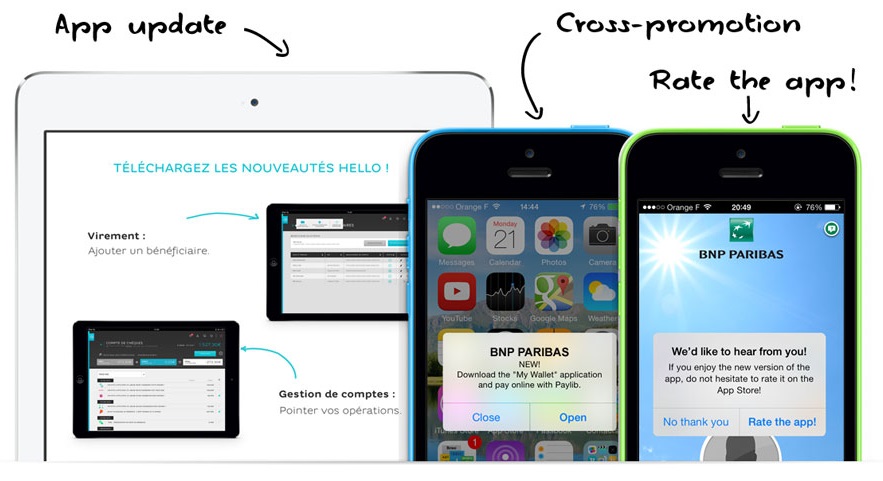 Case study summary
• Global bank created personalised app to increase mobile engagement
• Targeting strategy made smart use of mobile push notifications to keep customers coming back
• App Store ratings shot up 60% after launch with targeted customers responding more

The challenge
BNP Paribas was awarded the 2012 Bank of the Year award by the International Financing Review, Thomson Reuters' leading financial industry publication. But the firm knew it had to mov ewith the times, so it worked with Accengage, using the technology firm's targeting capabilities and array of formats to broadcast impactful messages in order to boost app update rates, boost app store ratings, and promote its services as well as other apps.
The solution
The team created dynamic segments of users in order to send targeted push notifications and in-app messages according to the bundle version of the app, the OS version of the device, the amount of logged in visits, the registration to specific alerts.
App updates were promoted by displaying in-app interstitials introducing users to the key new features of the latest app version, with a call to action redirecting to the app store page.
It also broadcast in-app pop-up messages asking frequent and loyal users to rate the app in the stores.
After the app launch, the team set up a a cross-promotion campaign. It broadcast targeted push notifications to promote another BNP Paribas app (My Wallet) and generate free downloads on the App Store & Google Play.
Results
The app was a huge success, with a a faster app update rate by users targeted with interstitials. Following the launch of the app, there was a 60% App Store rating increase from a 2.5 rating to 4 stars