glh Hotels is a group of hotels including the Thistle and five luxury Guoman properties that are based in the UK. This case study looks at how the chain made smart use of data to join up insights across its portfolio of hotels.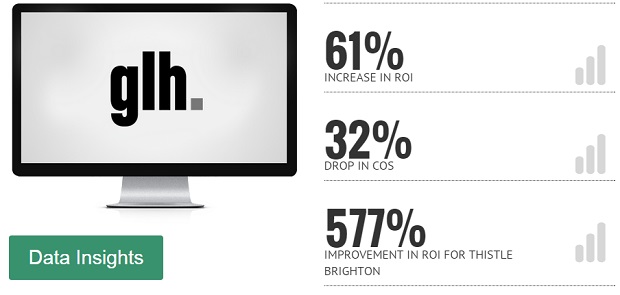 Case study summary
• glh Hotels measured their marketing performance in order to gain insights on areas for improvement
• The insights led to changes which increased ROI by 62% and dropped the cost of sales by 32%
The challenge
glh Hotels wanted to improve the digital presence of all the companies hotels. One of the challenges glh Hotels faced was the fact that each hotel had ownership of their own marketing channels opposed to channels being managed centrally. glh enlisted the help of media agency Greenlight to provide insights for each hotel to improve individual performance and increase transparency for each hotel.
The solution
Greenlight needed to provide each glh Hotel with flexible reports, detailing top line and granular level of performance. This also enabled Greenlight to identify which hotels to focus more on during the mont.
By evaluating top line performance Greenlight were able to give an overview of a hotels performance, whereas the granular level analysis looked at in-depth keyword detail so each hotelier could drill down into their performance.
Implementing performance monitoring gave the hotels unknown before insights and they were then able to adjust their budgets accordingly.
The results
• ROI increased by 61%
• Cost of sales dropped by 32%
• Thistle Brighton improved their ROI by 577%
• Thistle Holborn experienced a 52% drop in cost of sales
• Increased brand awareness within the individuals hotels' cost of sales targets