This case study looks at how media agency Greenlight worked with GHD, a hair care manufacturer, to implement a mobile strategy to achieve year on year growth in net revenue.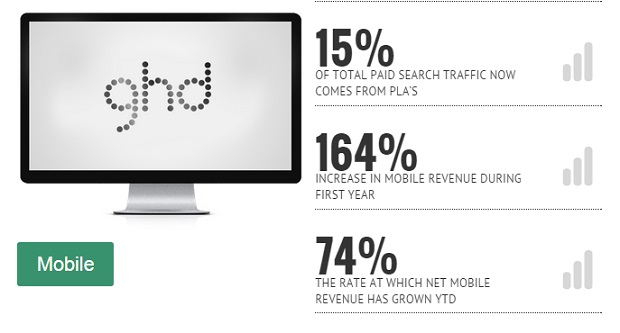 Case study summary
• GHD saw that an increasing amount of traffic to its website was coming from mobile, in order to capitalise on this GHD created a strategy to optimise on this mobile trend
• Greenlight implemented a paid search strategy improving its position for product listing and PPC strategy
• The campaign saw traffic to the GHD mobile website increase by 164%
The challenge
GHD has seen m-commerce impact its business positively since 2011. In fact the percentage of users accessing their site (ghdhair.com) via mobile is ahead of the trend at 50% compared to the industry of 31%.
GHD recognised a shift in consumer behaviour on mobile and therefore set a goal to increase visibility of the website on mobile devices. The aim was to improve conversion and increase the GHD mobile site's performance on SERPs.
The strategy
GHD worked with media agency Greenlight who monitored month on month mobile traffic visits to the site as well as looking at external mobile trends in order to aid GHD when implementing their mobile site.
Greenlight devised a paid search strategy that allowed GHD to appear in first position in SERPs for product listing ads and paid ads. Google Shopping was also utilised as a key part of GHD's PPC strategy.
A/B testing on GHD's paid search campaigns ensured GHD focused its investment on ads which generated the greatest ROI.
The results
15% of GHD's total paid search traffic now comes from PLA (product listing ads), this number rises to 20% for those accessing on mobile devices, compared to just 10% on desktop and tablet search traffic. During the campaign GHD experienced spikes in product listing and traffic up to 65%, solely from mobile.
By creating an adaptive mobile site, GHD saw mobile traffic increase at 164%. Mobile revenue grew by 74%.