For its "Who Does More?" campaign, deodorant maker Rexona spread its tag line across multiple channels to encourage its target audience to be more active. The brand developed a second-screen experience for Turkish Survivor fans, letting users follow and compete with the contestants' performance data, getting a turnover growth of 20% in the process.
Case study summary
• Deodorant brand creates mobile app in conjunction with Turkish Survivor reality show
• App charts calories burned of each contestant- and lets viewers compete with their performance
• Rexona aerosol market share grew 1% after campaign
The challenge
For its "Who Does More?" campaign, antiperspirant and deodorant manufacturer Rexona spread its philosophy of "Do More" across multiple channels to encourage its target audience to be more active. It performed an audience analysis, which revealed that both wearables and second-screen experiences were on the rise. It leveraged this insight with a mobile campaign that would not only remind people about the brand but would also reach non-Rexona users. Different KPIs were established for the overall campaign and for each channel.
Rexona's target audience was defined as customers aged 18 to 34 in Turkey who were physically active, emotionally engaged, and socially connected — "doers who pushed their limits." This audience spent more time on mobile than television, and 78 percent of the target group owned a smartphone. Research also showed that mobile phones were the most used devices for second-screening, with 64 percent of viewers using smartphones while watching TV.
The solution
In line with its "Do More" philosophy, Rexona created a campaign that included three different phases. First, it made a partnership with Survivor, which was the most popular TV show in Turkey. Five of the most ambitious contestants were selected as the face of Rexona and a TV commercial was created in which they challenged each other to do more and push their limits.
Roxena chose the reality TV show Survivor because the brand wanted to create an emotional bond with Turkish people, who had been closely watching the show since 2010. Survivor had been on the top-10-show list every week for many years. The show also reached both genders, which was one of the biggest challenges for Rexona. Furthermore, the popular reality show announced that 2015 would be its All-Star year and would feature Turkish celebrities.
Roxena knew that the TV commercial was not enough to spread its "Do More" philosophy, so in the second phase, it developed an integrated campaign to engage consumers with the TV show. Since smartphone interaction increases when people are watching TV, Roxena decided to integrate a mobile app for the TV show into the campaign.
This would create a second-screen experience for millions of Survivor fans. The Acunn mobile app was chosen because it was the official mobile app of Survivor, which already had 500,000 active users. The app allowed users to follow the contestants' calories, movements, and daily and monthly performance data.
The most important factor of the campaign was the use of digital watermark technology that prompted the third phase. A digital watermark is a kind of marker covertly embedded in a noise-tolerant signal, such as an audio or video recording.
The brand sent push notifications to mobile phones using a code that had already been included in the mobile app by means of watermark technology. The code generated second-screen tracking as Roxena asked users questions about Survivor through the app in real time.
The use of a digital watermark for 24 episodes was the longest-running integration in Turkey. Even though second-screen activations had been done before, this was the first time in Turkey that a brand had used a digital watermark to combine a TV and mobile experience, and created target audience interaction.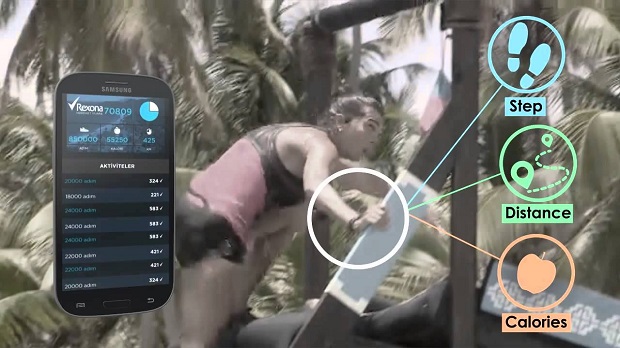 Mobile Execution:
Roxena converted the reach of the campaign into engagement and market share gain. The total budget for the campaign was €2 million, and 27 percent of the total campaign budget was allocated to mobile.
First, Rexona gave branded wristbands to each of the Survivor contestants in order to track their performances. The brand was also able to share contestant data, such as how many steps they took, how many kilometers they traveled, and how many calories they burned, with its audience. Through the app, users could compete with celebrities. Users shared their workout details on social media, and the app motivated them to prove that they were exercising as vigorously as the Survivor contestants.
Second, Roxena asked its audience to download the Acunn.com app before each episode via advertorials and sliders on TV. It then asked them to activate it so that they could participate in the live games. App users could review the contestants' performance data and could also be a part of live games within the app by guessing the winner of each match on the show.
Next, the app games were triggered by audio watermark technology that enabled TVs to send audio signals to mobile phones before each match. By doing this, Roxena changed the concept of Survivor from a late-night TV show to Turkey's longest second-screen integration, which lasted for 24 episodes. Additionally, the brand gave users points for every correct prediction they made. At the conclusion of the 24-episode execution, it sent one user to the Dominican Republic, whereSurvivor was filmed.
Finally, Roxena asked users to exercise as hard as they could for a full 10 minutes during the commercial breaks. Using the gyroscopes in their mobile devices, their movements were tracked, and the most active players were rewarded with Rexona wristbands and tickets to the final event of Survivor.
The results
Who Does More? KPIs
• Turnover growth of 20 percent
• Rexona value market share growth of 0.3 percent
• Rexona aerosol value market share growth of 1 percent
Acunn.com app KPIs
• 500,000 unique users interacted with Acunn.com app
• Five-minute average time spent in the Acunn.com app
Audio Watermark KPIs
• 200,000 unique users interacted
• Five-minute average time spent in the game
Do More Game KPIs
• 100,000 unique users played the game
• 3.5-minute average time spent in the game
• 400,000 unique users reached by push notifications
Business Results
• Rexona year-to-date turnover growth was 24.1 percent against the 20 percent target.
• Rexona's value market share growth was 0.8 percent against the 0.3 percent target.
• Rexona's aerosol value market growth was 2 percent against the 1 percent target, and it became the No. 1 brand in the aerosol value market, reaching an 18 percent share.
Acunn.com App Results
• The Acunn mobile app was downloaded by 480,000 new users during the campaign.
• 1,039,361 unique users interacted with Acunn.com app.
• An average of 7 minutes and 30 seconds were spent on the Acunn.com app.
Audio Watermark Results
• 579,598 unique users played the Audio Watermark game on mobile.
• An average of 10.5 minutes were spent on the game.
Do More Game Results
• 269,755 unique users played the Do More game on their mobile devices.
• An average of 4 minutes and 28 seconds were spent on the game.
• Push notifications were clicked by 237,101 users (a rate of 53 percent).