The popular confectionery brand used Facebook video and carousel ads to create an emotional bond with chocolate lovers, with mouth-watering results.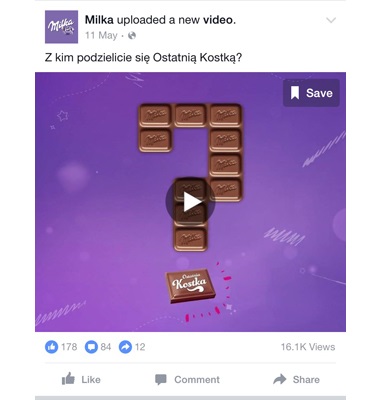 The Challenge
Founded in Switzerland in 1825, Milka is one of Poland's most popular chocolate brands. Its parent company, Mondelēz International, includes the global snack and food brands of former Kraft Foods Inc.
Milka's goal was simple: to drive sales by strengthening the emotional bond with its core audience of women aged 20–49. With 10 million people in Poland using Facebook to connect with friends and family every day, Milka believed it could reach its customers by joining the conversation.
The Solution
Milka built on the emotional bond that the brand's global "dare to be tender" campaign has created with chocolate lovers around the world. In this campaign, however, it wanted the product itself to be the main hero—and so the 'Milka Last Square' was born.
For Milka, the last piece of a bar of chocolate is the most important, and the gesture of sharing it with a loved one is a symbol of true love or friendship. Milka brought this insight to life in an integrated campaign that ran in spring 2015.
The results
Using engaging, targeted creative, Milka saw significant uplifts in all its brand objectives. A Nielsen Brand Effect study showed that its campaign awareness results were better than 95% of all other CPG campaigns across the region, while purchase consideration and recommendation scored better than 92% and 80% of campaigns respectively.
⦁ 6-point increase in recommendation
⦁ 33% of campaign reach generated by Facebook
⦁ Most cost-effective medium at delivering incremental offline sales
Małgorzata Gliwińska, Milka Brand Manager, Mondelēz International, said: "Facebook's value for Mondelēz is clear. It helps us to tell engaging stories that build brand equity, to efficiently drive uplifts in sales, and to measure the impact of our campaigns. As well as delivering 38% reach, it proved to be the most cost-effective medium in delivering incremental sales."