As India's top coffee brand, Bru wanted to re-engage its existing customer base and reward loyal consumers for their purchases. This case study looks at how the Hindustan Unilever firm enticed its core audience of young women with free mobile airtime rewards- building a useful database in the process.
Case study summary
• Coffee giant looks to reengage core audience of 25-44 year old females
• Rewards customers with free mobile airtime- big draw for low income customers
• Also reached out to retailers to build relationsips and boost distribution in India
• Campaign attracted 188,000 customer entries in the first 22 weeks
• Permissioned trader audience of 150,000 to boost distribution
The challenge
As Bru had been previously challenged in identifying loyal customers and measuring their participation, the key aim of the campaign was to get a better understanding of its customers, developing a permissioned database that Hindustan Unilever could draw on.
The Bru consumer base is largely made up of 25- to 45-year-old women, who use their use their mobile phones to talk to their families and relatives. However, because they are either minimum wage earners or housewives, they rely on other members of their family to provide them with money to recharge their mobile phones.
Bru also identified the need to engage independent traders and drive sales. With over 10 million retail outlets across India, tapping into traders who were not already distributing Bru could have a major positive impact on the brand's growth.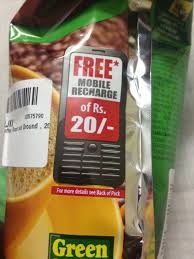 The solution
Because a large majority of Bru consumers still use pay-as-you-go mobile plans, the brand decided to address the needs of its audience with a free airtime reward acting as "cash" for mobile talk time.
Unlike a discount, however, the incentive could not be absorbed by wholesalers further up the chain. This ensured that the end retailers benefitted, prompting them to engage with Bru independently via their mobile phones.
Bru developed an integrated mobile marketing campaign that launched in November 2014 and is due to complete on December 31, 2015.
Using mobile, Bru was able to establish a direct line of communication with key consumers and traders in order to build meaningful ongoing relationships with them and contribute to a more even distribution of sales.
Bru was able to offer both consumers and traders free airtime via mobile redemption of codes printed within the product packaging — regardless of their handset or mobile network — in return for traders answering questions about their business needs and consumers about their shopping priorities and habits. Each engagement was permissioned, with participants opting into engagement.
Using this approach, Bru was able to develop an extensive database of the target audience, which offered a deeper understanding of this key market. Hindustan Unilever can now use that database to better target and build an ongoing relationship with this audience, on behalf of Bru and similar Unilever brands.
How it worked
Consumers were sent targeted reminders to create "Bru moments" and increase purchase frequency. The reminders also drove awareness of the campaign through alternative consumer databases. In order to increase the sales of traders, offers were amplified to first- and second-level entries to increase their Bru purchase behavior.
Margins for traders are a combination of the base margin and achievement of certain targets, like minimum quantity purchase. Usually these additional incentives are provided through third-party items or incremental cash. Third-party items tend to cause a lot of wastage given supply chain complications and rejection by some of the stakeholders in the value chain. And incremental cash tends to create channel conflicts in large businesses like HUL, where products are serviced through multiple channels like general trade, modern trade, wholesale, canteens, out-of-home, etc. However, mobile talktime provided an excellent alternative to ensure minimum wastage or channel conflicts. Therefore, it was a great mechanism through which Bru could reward traders who participated in the promotion.
As this was an integrated 360-degree campaign, the brand wanted to stay engaged with both consumers and traders and encourage them to purchase Bru R&G 50g, Bru Instant 200g, Bru Instant 100g, and Bru Instant 50g. The promotion ran throughout Tamil Nadu, Andhra Pradesh, Kerala, and Karnataka.
The campaign approach and execution had to be a tailored to each audience in order to best meet their needs. While both involved a mutually beneficial engagement via mobile devices, the mechanism was slightly different for each.

Results
The entire promotional campaign, targeted at traders and consumers, was done completely via mobile. This was the first time Hindustan Unilever had done this with any of its brands in India.
Overall, the integrated campaign was very successful with both traders and consumers.
The most significant results of the campaign included astounding redemption levels of 48 percent for traders and 50 percent for consumers, compared to an average expected redemption of 2 to 3 percent.
Furthermore, 55 percent of traders and 50 percent of consumers opted in to further engagement with the brand as a result of the campaign.
Bru received a total of 2.7 million calls across both groups.
Key results for each target audience:
Traders
• 973,000 complete entries
• Permissioned audience of 150,000
• Over 40 percent of traders re-engaged with the campaign
• 277,000 traders engaged with the campaign, 98 percent of whom completed the profiling call.

Consumers
• 189,000 completed entries, 94 percent of whom completed the profiling call
• Permissioned audience of 180,000
• Over one million calls made
• 22 percent of entrants repeated entry
• 131,000 new consumer profiles
• The campaign attracted 188,000 entries in the first 22 weeks
Alongside the quantitative success of this campaign, strong qualitative feedback revealed the excitement among the retailers who participated in the promotion. The call experience feedback was also overwhelmingly positive, with the language choice providing an easy way for consumers to enter the campaign.