Foods brand Knorr in Thailand, leveraged ChatBot technology on popular social media and messaging platform LINE to inspire local mothers to cook more at home and increase the usage of Knorr products in their recipes.
Case study summary
• Knorr Thailand identified that large numbers of their consumers use LINE as a channel to discuss food and "what's for dinner?"
• Knorr Thailand created a ChatBot, Auntie, to provide a personalised service for mums helping them to provide great family meals
• Consumption of Knorr stock cubes increased by 50% in three months
The challenge
Knorr in Thailand waned to increase brand preference and get mums to try new dishes which included core Knorr ingredients. The brand used customer insights data to discover that one of the main challenges Thai mums have is deciding what to cook for dinner for their families.
The solution
It was identified that consumers are using LINE as a channel in large numbers in Thailand and that food amongst families was a major topic of discussion. Knorr saw this as a way of positioning their recipe support as a way of helping out stressed mums in a channel they were highly engaged in.
Knorr Thailand launched Auntie Reply, a ChatBot inside LINE to provide recipe support to mums.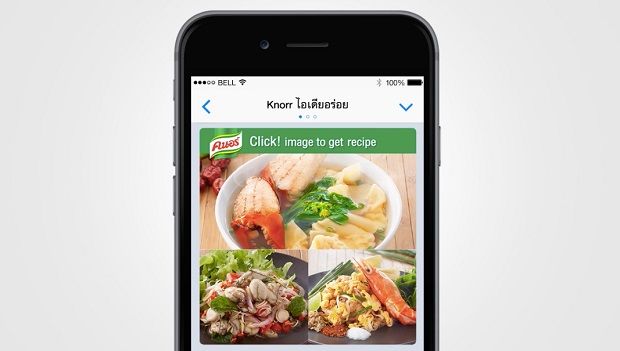 By using Line as a reach channel and the ChatBot as an engagement channel Knorr provided a personalised serviced for millions of mums in their community solving their core need of answering the "what's for dinner" moment and embedding Knorr as the helper every mum needs to provide great meals filled with flavour for their family. It also builds Knorr as the modern helper for mums in the kitchen, in touch with the way they live their lives.
The results
• Recipes were viewed over 1.6m times
• 12 million fans on LINE (1/3 of Thai mums)
• Knorr stock cube consumption increased by 50% within three months
Analysis
Social platforms play many roles in peoples lives. Marketershave proved very successful in using social community and content sharing sides to reach our audience. This is not always seen as a benefit by the consumer. However the new Chatbot technology that has been developed over the last couple of years enables marketers to take advantage of another are of social media, messaging, in a way that relies on their permission and the value that it brings to the consumer. This case study shows that when executed properly consumers will use this sort of service at scale. In the FMCG sector, recipes, style advice, tips for household cleaning, and ideas for looking after kids are also examples of the types of content that translate well into bot conversations.
Tip: The trick is to leverage existing assets used elsewhere in the marketing ecosystem such as the FAQs on brand websites, email CRM communication programmes, or the detailed customer service scripts used by telephone call centres. Many people look to their friends and content channels inside of social platforms.
Marketing your chatbot

There's no shortage of opportunities to drive awareness of a chatbot, but the key approaches with both good scale and high conversion are likely to be paid media advertising in the channel where the chatbot can be accessed. As always, start with small tests to see what works best for your message and your audience. For brands with a broad marketing system of owned media channels, there are many ways to try out the promotional messages through those other channels and optimise based on conversion tracking. Other techniques to strongly consider include packaging or point of sale if they are available as they typically have long exposure in a context that's perfectly relevant to the product.