Procter and Gamble (P&G) beauty brand Olay has used AI (Artificial Intelligence) to create a web experience "The Skin Advisor" which analyses your skin using a selfie, asks questions about your skincare regime, and suggests Olay products to help improve the texture, hydration and tone of your face.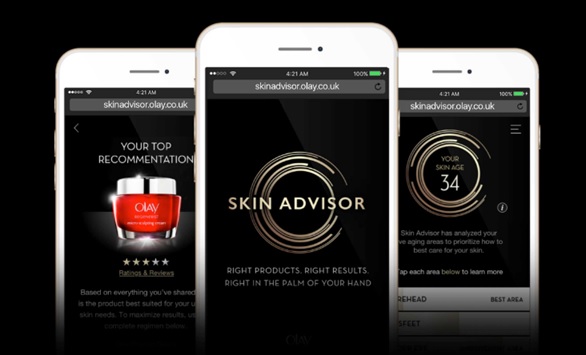 Key takeouts
• Olay uses AI technology to analyse of users skin and recommend skincare regimes
• The web experience has been used over 1.2m times and consistently receives 5-7k users everday
The challenge
The skincare market is saturated with hundreds of products all promising to cure all manner of skin problems. Customers are becoming increasingly confused about what their skin type is, and decipher which products are best for them.
P&G also noticed that there was an increase in the number of women who were asking for help from in store supervisors and beauticians, when trying to work out which products were best for them. But often these customers feel intimidated by the pressure to then buy from a specific brand.

The solution
Olay's Skin Advisor is a web based technology platform that uses AI to help women learn more about their skin. Based on their age and skincare regime, it informs them of their problem areas and best areas, and then recommends Olay skin products that they can buy. Olay's Skin Advisor is not a downloadable mobile app; instead it is a widely accessible web experience that users can access through mobile browsers, allowing users to access at time convenient for them.
The Skin Advisor is simple to use. Users take a no make-up selfie and then answer questions about their skincare regime.
The Skin Advisor uses a deep-learning algorithm that was trained with tens of thousands of images of women's faces, where the only thing tagged in the images was the actual age of the women. The algorithm was then trained to predict someone's skin age by comparing their selfie to the others.
The Skin Advisor also asks users to answer a short series of questions about their skincare routine, and then provides recommendations for products that could help them improve their skin age, identifying both their best features and areas that provide the biggest opportunity for improvement.
The results

• Since its launch the Olay's Skin Advisor has had 1.2m visits
• It consistently attracts 5-7k visitors everyday
You can find out more about your skin here https://skinadvisor.olay.co.uk/en-GB/