Vodafone worked with Bing to help the telecoms brand drive innovation, improve their search strategy and increase customer acquisition. This case study looks at how the mobile network got 20% increase in its click-through rate and saw a 27% reduction in its cost per click year on year.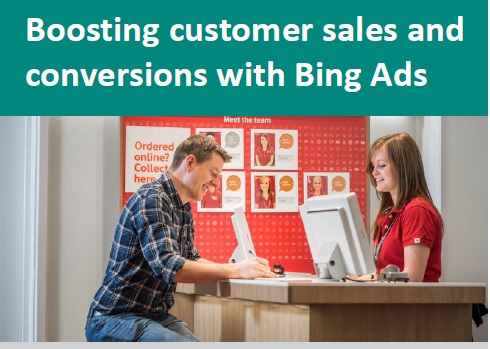 Case study summary:

Telecommunications giant Vodafone approached Bing Ads to capture as many customers as possible while keeping costs down
Used Bing's tools to a create bespoke – and precise – marketing campaign for their audience
Saw a 20% increase in click-through rate, a 27% reduction in cost per click year on year and reduced cost-per-sale by 28%
The Challenge:
Vodafone provides a range of services including voice, messaging, data and fixed communications. Last year, Vodafone entered the broadband space, becoming the first UK-based company to scrap line rental charges on broadband.
The telecommunications firm is one of the world leaders in their industry, with a customer base of over 465 million across all its services. Vodafone currently operates in 26 countries and works in partnership in an additional 52 countries, empowering its customers to communicate with the people they care about effortlessly and on their own terms. "We recognise that everyone communicates differently, so we're committed to making sure our customers always feel connected wherever they are," explains Christopher Pearce, search and affiliate lead, Vodafone.
However, over the last 12 months the industry has become more competitive and complex, with mergers, acquisitions and new entrants, which had led to companies trying to diversify and expand the range of services they offer their customers. With organisations no longer focusing on specific product categories, broadband businesses are moving to mobile and vice versa. As a result, there's always a need to find new ways to engage consumers. For Vodafone, reaching out to their customers and making sure they have a full understanding of their services was crucial.
As a result, Vodafone has adopted a "be first" strategy across all its marketing activity. A key part of which is a customer acquisition strategy, achieved through paid search, powered by Bing Ads. This allowed Vodafone to capture the attention of potential customers when they're in market and most likely to buy
The Solution:
Remarketing in Paid Search
Targeting people already identified through the Vodafone site allows for a more audience-focused approach.
Vodafone become the first telecoms company to take advantage of Bing Shopping Campaigns, which the company uses to manage Product Ads that showcase products with an image, text, pricing and the company name. Bing Shopping Campaigns allow more visual content to be presented to the consumer, while the addition of the "order now" button helps increase clicks and potential sales.

With a wide variety of choice, consumers need to be empowered to make choices for their specific needs. Bing Shopping Campaigns enabled Vodafone to differentiate itself from its competitors and optimise its ads with greater detail and visuals. This allowed Vodafone to create ads that would appeal to customers as they searched for particular products online. To add further precision to its campaigns, the Bing Ads team added links and descriptive text to ads with Enhanced Sitelinks. This enabled Vodafone to include as much information as possible in the ads it presented to customers. Also, by adding an image to ads with Image Extensions, Vodafone is able to align its paid search activity with other market campaigns, such as TV spots, and ensures that a consistent message is presented to the consumer.
The Results:



20% increase in click-through rate year on year


27% reduction in cost per click year on year


Reduced the cost per sale by 28%, which is 40% lower than the cost with the leading alternative