With bids for channel and device-attribution attributed values in AdWords, HelloFresh managed to increase conversions by 10%. At the same time, the cost per capita (CPA) was reduced by 6%. Overall, HelloFresh gained a better understanding of the entire customer journey, which is used to optimise budgets, bids, and keywords.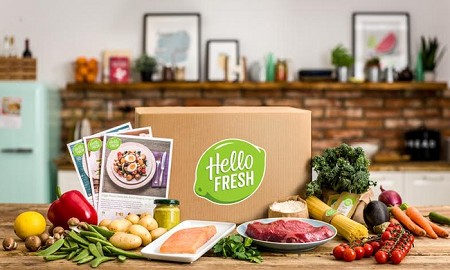 Case study summary
• Online meal kit firm wanted better understanding of the entire customer journey
• Integrated control of AdWords campaigns based on the results of a cross-channel, data-driven attribution model
• Used Google Attribution: Fully automated bid control based on a data-driven attribution model across channels and device types.
• AdWords cross-channel attributed value bids based on a data-driven model resulted in 10% more conversions and a 6% reduction in cost-per-acquisition (CPA).
The challenge
HelloFresh sends cook boxes with selected ingredients. This concept arrives on both the American and European markets. The signs at HelloFresh are focused on growth, especially through new customer acquisition. HelloFresh is one of the first global companies to use Google Attribution as part of a beta test. Karl Villanueva, Head of Paid Search & Display, not only recognises many benefits, but can already measure concrete results.
"As a global company, we try to identify trends in good time and take the necessary steps," says Villanueva. For example, years ago HelloFresh was able to implement the "Mobile First" approach quickly and well. "With Google Attribution, we want to understand what people are watching, whether they use their phone, tablet or desktop," he continues. HelloFresh can do that with Google Attribution. And they can evaluate marketing interactions along the customer journey based on data-driven attribution. Unlike last-click, data-driven attribution uses machine learning to determine how important each step-from first to last click-is to the conversion. " One of the biggest advantages for me in this process is the changed way of thinking. We learn to understand the whole path and not just pay attention to the last click, but also evaluate each relevant step before it. "
The solution
Google Attribution enables cross-channel and cross-device capture of the customer journey - within Google ads and beyond. All channels, from banner ads to price search engines to online video platforms, can be considered. Google Attribution combines data from Adwords and Google Analytics without the need for additional tagging. Thus, Google Attribution provides a comprehensive view of the customer journey and the impact of the recorded advertising contacts on the conversion. It evaluates specific conversion patterns and compares the paths of users with a conversion to the paths of other users.
In the everyday working environment, the benefits of using Google Attribution are noticeable: "We simply recognise cross-channel effects faster and can give better feedback to the individual departments," confirms Villanueva. "With Google Analytics alone, it was not possible to fully automate bid control in AdWords, easily integrating the cross-channel attribution results into bid controls, and with Google Attribution, it's now just a few clicks."
Another positive effect is the noticeable increase in conversions from 'upper' and 'mid-funnel keywords', advertising contacts that are more likely to start a customer journey. These contacts are of particular interest to HelloFresh's growth strategy, as new customers can be reached. For example, potential customers are approaching the HelloFresh offering through a fairly generic search for "grocery stores near me". In the course of their research, the search queries become more specific as they become aware of the HelloFresh service. With the resulting insights, HelloFresh was able to respond appropriately and adjust budgets, bids, and keyword portfolio accordingly. "This behavior shows us that it pays to invest more in the search and increase certain keywords. The possibilities are quite different than just focusing on the 'last click' before conversion. When people start their search, they are often out and about using their smartphone. The final deal, however, is often still on the desktop PC. "
The results
AdWords cross-channel attributed value bids based on a data-driven model resulted in 10% more conversions and a 6% reduction in cost-per-acquisition (CPA).
Success proves HelloFresh right. "With AdWords channel-and-device attribution across AdWords, we were able to increase our conversions by 10%," says Villanueva. At the same time, the cost per acquisition (CPA) was reduced by 6%. In addition, HelloFresh observed that 18% more conversion paths have been generated by upper-funnel keywords and that the impact of AdWords search ads on organic search has increased 45% over average. In addition, the impact of searches for brand terms on other channels increased by 40% and that of generic search terms by 10%. "We will continue to use the insights Google Attribution provides to improve the performance of our marketing campaigns in general and AdWords specifically."