Condom brand Durex developed a chatbot that shared content about sex with young Indian consumer through Facebook messenger, in a bid to boost safe sex awareness across the country and boost sales.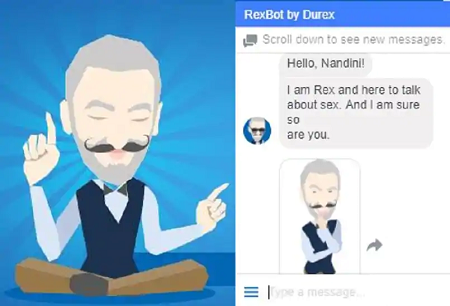 Case study summary
Durex wanted to tackle sex as a taboo subject in India
Used Facebook Messenger chatbot to help India's youth audiance ask questions and get informative, engaging answers on sex issues
Beta tested to refine user experience
Achieved 2,000 daily active users spending 2 minutes on platform, with over 100,000 unique users in total
The challenge
Most parents in India are not comfortable talking about sex with their children, and young Indians do not have many avenues to acquire accurate information due to a lack of credible sources on the subject. Social listening reports and Google Insights revealed that approximately 9.1 million searches on sex occur every month, with interest dispersed equally among male and female audiences.
Reckitt Benckiser condom brand Durex understood the critical role that safe sex awareness has for the future growth of its products, and came up with a solution. Its objective was to not only encourage real change in the current situation by educating Indian youth about safer sex, but to also create a significant behavioral shift in their perception of sex.
The brand's target audience consisted of young Indians between the ages of 18 and 24.
The solution
The brand launched RexBot, an intuitive chatbot that was accessible to consumers through Facebook Messenger. With new age consumer engagement as its main objective, RexBot catered to both men and women. Rex and Roxy, the male and female versions of the bot, had approachable, friendly, and fun-loving personalities that were brought to life with GIF-based animations. The content created was conversational, informative, and even entertaining.
Durex realized that while consumers could search for answers to sex-related issues in a number of places, no single one had all the answers. Its idea was to create content that was written the way consumers think, answering their questions a language they understand and in the place they're most comfortable in.
RexBot was accessible like any other chat window within Facebook Messenger, making it private and safe for a consumer to ask questions about sex. RexBot's content was classified into various information sections in a Decision Tree-based structure to promote ease of interactivity among users that were uninitiated to conversations about sex.
RexBot was developed in a month and was beta-tested for more than two months within an incubation community of over 1,500 Durex associates. The feedback was used to refine the user journey and enhance user experience.
The results
In less than three months after RexBot went live on Facebook Messenger, its audience size grew to over 100,000 unique users with around 4,000 users conversing with RexBot on a daily basis. Today, RexBot can be integrated into almost all existing digital brand assets.

RexBot saw about 2,000 daily active users (DAUs) spending two minutes on the platform. When compared to user behavior on the website (around 2,500 DAUs spending 1.4 minutes), the results supported the notion that RexBot was a valued platform for consumers. It reinforced users' need for an online interactive encyclopedia of sex on mobile.