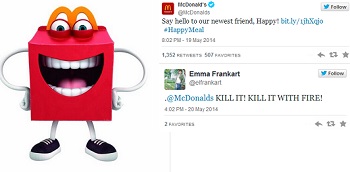 McDonald's latest mascot 'Happy', aimed at promoting healthy eating for children, has caused a stir on social media for all the wrong reasons- with many judging the character as 'terrifying'. The mascot has launched in the US, modelled off the Happy Meal box, with the aim of encouraging kids to eat more fruits, vegetables and low-sugar beverage options like milk and water- foods not commonly associated with the fast food chain. The fast food giant says it "brings fun and excitement to kids' meals while serving as an ambassador for balanced and wholesome eating." However, judging by the reaction on social media, it's inspiring more fear than excitement since making its US debut.
Its red, box-like figure, with large white teeth and bulging eyes has been turning some people off.
Users commented on everything from his "disturbing" features to his uncanny resemblance to actor Gary Busey.
"It's the meal that eats you," said one comment. Another added: "I didn't want to sleep tonight anyways, it's cool."
Though Happy has been lambasted on Twitter, the world's largest hamburger chain is sticking by its creative, noting that since 2009 the character has been well-received in both Latin American and European markets. A spokesperson for McDonald's even clarified that the reaction on Twitter is far different to the broader welcome Happy has received elsewhere.
Say hello to our newest friend, Happy! http://t.co/CuR3hU8Chj #HappyMeal pic.twitter.com/xgluLaHfcY

— McDonald's (@McDonalds) May 19, 2014
In response to the criticism on social media, McDonald's spokeswoman Lisa McComb noted that since 2009, the character has been "loved and well-received by children and families in Latin America and Europe."
"Social media is a great place to have a conversation and express an opinion, but not all comments reflect the broader view," McComb said.
In addition to Happy, McDonald's announced plans to add Go-Gurt Low-Fat Strawberry Yogurt as an option in its Happy Meals. Starting July 4, the chain will offer a 50-calorie version of the yogurt made specifically for McDonald's by General Mills with 25 percent less sugar than the conventional Go-Gurt.

Later this year, McDonald's restaurants in the U.S. will begin promoting only milk, juice or water as a beverage choice to children on menu boards and in advertising, according a recent press release.
View a choice selection of the Twitter comments below:
.@McDonalds KILL IT! KILL IT WITH FIRE!

— Emma Frankart (@elfrankart) May 20, 2014
.@McDonalds Some ideas for a less creepy mascot: pic.twitter.com/UYSrbaCGBJ

— DT (@DirectingTitan) May 20, 2014
Did @McDonalds dump Ronald McDonald for a demon-faced box?

— Jimmy Whetzel (@NintendoFanFTW) May 20, 2014
@applextree @McDonalds it's the meal that eats you

— steev (@Naive_Steve) May 19, 2014
@applextree @McDonalds I didn't want to sleep tonight anyways, it's cool.

— Jamie (@wonkachu) May 19, 2014