For a hair brand, getting a product recommended by hair salons is a major boost- and linking till data to social media campaigns is even more valuable. With this in mind, L'Oréal granted more than 5,000 salons in the US with access to the Buddy Media Social marketing suite, to enhance their Facebook Pages and allow L'Oréal to measure social success and improve content pages.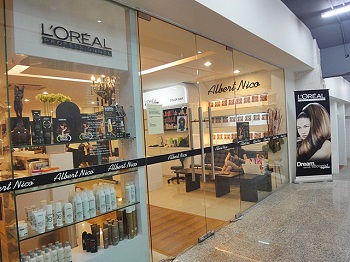 The company recognised the need for local salons in its US Professional Products Division — a quarter of whom have been negatively impacted by the recession — to connect with their customers through Facebook.
As a result, L'Oreal partnered with Buddy Media to provide a set of tools with which salons could begin enhancing their Facebook Pages, whist allowing L'Oreal to measure traction and furnish content for all of its salon locations.
Salons could now set up a separate tab with a number of customizable modules that let them display their respective logos, business hours, a menu of services, inspirational and how-to videos (many of which will be supplied by L'Oreal).
In addition, salons could advertise (but not sell) products, among other things. Buddy Media also integrated with other social applications like Schedulicity that enable appointment booking over Facebook.
L'Oreal also supplied salons educational resources, including a how-to book for promoting salons on Facebook and instructional videos. In addition, the company is extending $25 advertising credit for each of its Redken salons.
The initiative was a huge boost to the brand, as it gave a large corporate franchise the ability to connect with consumers on a grassroots level.
See a sample Facebook salon page below: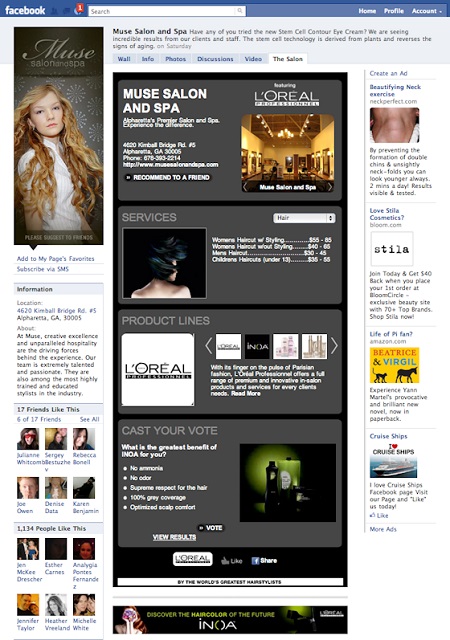 Buddy Media CEO Michael Lazerow said: "If you have 4,200 salons that connect with 300 people each, you then have the ability to connect with more than a million people," he says, noting in addition that it allows consumers to connect with real people — i.e., their stylists — on Facebook as well as the corporate brand.
The program received an estimated 21 million impressions and 2.2 million engagements. By end of year, it is expected to exceed more than 6,000 salons and reach approximately 1.7 million clients.
Some salons are seeing gross sales increase by more than $4,000 from just one promotion.
Additionally, salons experienced a great improvement in online bookings, as well as the ability to listen to customers' wants, needs and opinions through Facebook Wall Posts, Comments and Shares.