KFC launched the Wow@25 menu in India to show that great food doesn't have to come at a high price - only Rs. 25. KFC wanted to vanquish the misconception that locals had about the price and needed a 'Wow' idea to communicate the new menu. This case study looks at how the fast food brand made smart use of new technology to get the number one spot in the iTunes food and drink app category.
Working with the Mumbai based digital agency Blink, KFC created the Wow @25 augmented reality app, available on a variety of digital platforms including mobile (Android and iOS) and on a microsite.
The app let users scan any Indian currency note, and all of their KFC buying options would appear on the note itself. The app was a huge success impressing both customers and critics.
There were 35,000 downloads of the app and over 150,000 hits on the microsite, the app was also recommended on the iTunes app store 'What's hot list' and in India reached the number 1 spot in the food and drinks category. The digital agency Blink also won an award for the app at the Webby Awards 2014 under the Augmented Reality in the Peoples Voice section.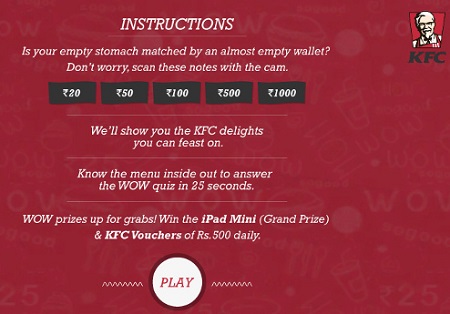 What's the viewer's experience?
The app gives a great user experience and is a very clever way of getting users to see value by using everyday objects for augmented reality instead of needing a QR code. Reaching the number 1 spot on the app store and high download rates also show that users were happy with the app.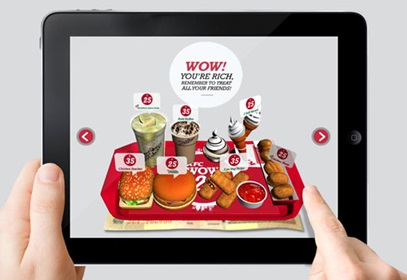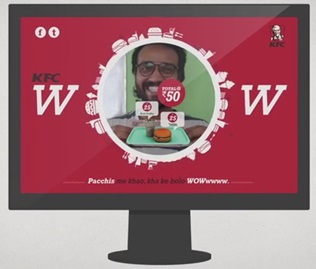 How does this boost KFC's digital marketing?
This digital campaign was a huge success for KFC. The innovative app fulfils KFC India's business objective and its high user engagement was critical as it was taking on McDonalds India for its 'Happy Price' menu – also offering food items at Rs. 25.