From an avalanche of ice buckets to World Cup fever, 2014 was another big year for video viral marketing case studies. As mobile sharing went mainstream, it was charities that achieved some of the year's biggest success stories with the 'No Make Up Selfie' and the 'Ice Bucket Challenge' hinting at the future power of social media as a communication tool. To round off the year, we've assembled our 25 favourite virals from around the world for your viewing pleasure…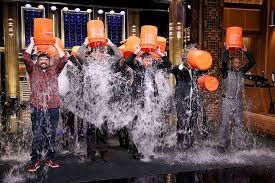 Over 1bn YouTube views, 10bn Facebook views
In July 2014, Charity ALS started a small-scale internet challenge that ended up reaching all the way to the White House. The 'Ice Bucket Challenge' led to record donations to the charity, raising $16m in contributions for the group and its national affiliates, compared with less than $50,000 in the same summer period last year. The videos, uploaded by 2.4 million different people, have been watched more than 1bn times on YouTube, with Google labelling the meme 'bigger than Harlem Shake'. According to Facebook, the videos were viewed more than 10 billion times and reached more than 440 million people between June 1 – August 17 2014. Over 28 million people have joined the conversation about the ice bucket challenge including posting, commenting or liking a challenge post. No bad for a bunch of videos featuring people tipping cold water on their heads…
37m YouTube views
Just what is it like to be a woman walking the streets of New York City alone? This controversial video from non-profit organisation Hollaback! filmed the real-life reactions of men as a woman walks around the city. The video put street harassment in the spotlight, getting a huge 37 million views in just three weeks. Dressed in 'jeans and a crew-neck T-shirt', 24-year-old volunteer Shoshana Roberts drew repeated comments about her body during strolls around Manhattan — by guys who ranged from irritating to scary.
22m YouTube views
To celebrate Mothers Day 2014, Cardstore created a viral video with a twist. The US card retailer filmed fake webcam job interviews for the 'world's toughest job' to become a viral hit. No clue as to the content of the video was given either in the title, or in the description. Viewers watched the real-life candidates being interviewed for a position where they were told to expect no salary, vacations, and working hours upwards of 135 hours per week. It's only 3 minutes into the 4 minute video that we are told the position is actually that of a 'mom', and the viewer gets to empathise with the candidates as the realization of the role that mothers play hits home.
94m YouTube views
This ad for clothes brand Wren took the web by storm back in March, with its strange mix of cringe-worthy and heart-warming first kisses between strangers– coming close to winning 2014's Cannes Lions Grand Prix award. The ad was a masterclass in how minimal branding and strong content can pay off big time.
Cancer Research UK has received more than £8m in donations after this popular online campaign took off, asking women to post selfies with no make-up using the hashtag #nomakeupselfie. The charity also saw a rise in people donating at their Cancer Research UK shops, and a huge peak in visits to its website.The selfie campaign has also sparked a Facebook page No Make Up Selfie For Cancer Awareness which had hundreds of thousands of donations. There were 261,692 likes on Facebook with each of their photos gathering approximately1500-2000 likes and over 100s of shares each photo.


54,000 referrals for healthcare in just one day
US President Obama's appearance on the spoof talk show Between Two Ferns with comedian Zach Galifianakis boosted traffic to Healthcare.gov, with 54,000 referrals for healthcare in just one day. In the intentionally awkward video posted on comedy site FunnyorDie on Tuesday, Obama traded insults with the comedian, while plugging the online health care enrollment programme. As a result, the next day's traffic to Healthcare.gov was almost 40% over the previous day's traffic.
1m YouTube views, 36 million tweets
Germany's spectacular 7-1 semi-final victory over Brazil broke many records, including some on social media- with many brands joining the conversation. The game attracted a staggering 35.6 million Tweets on the night, becoming the 'most-discussed' single game ever on Twitter as brands flocked to the social network with their own take on the shock defeat for the host nation. The staggering real-time stats are a signs of Twitter's growth, and its establishment as the go-to destination for live events, giving Facebook something to worry about. By comparison, Usain Bolt's gold-medal 200m sprint at London 2012 peaked at 80,000 tweets per minute, while Barack Obama's Democratic National Convention acceptance speech peaked at 52,756 tweets per minute.
48m YouTube views
Following on from the success of Carrie's YouTube prank last year, the makers of 20th Century Fox's latest horror movie 'Devil's Due' used a similar tactic to great effect- getting over 48m views in the process. The campaign, created by Thinkmodo used a robotic baby inside a remote-controlled stroller, that was set it loose on the streets of New York. The reactions of well-meaning passersby are priceless.
3.4m retweets
At the 2014 Oscars, Samsung took the award for most talked about brand with a celebrity-packed selfie tweeted by host Ellen DeGeneres using a Galaxy Note 3 phone. The electronics giant made full use of its sponsor status at the film ceremony, merging old-school celebrity endorsements with new technology to reach millions of people. Samsung spent an estimated $20m on ads to run during breaks in the Academy Awards broadcast on Sunday night. But the Korean firm may have got more promotional mileage from Oscars host Ellen DeGeneres during the show itself. The post so far nabbed nearly 3.5 million retweets, the most ever. By Twitter's count, it scored 32.8 million impressions in its first 24 hours. Waves of media coverage followed.
28 million YouTube views
Who knew a party to celebrate a girl's first period would be so awkward? This taboo-breaking ad from tampon subscription service HelloFlo took the web by storm. The service sends out care packages to women and girls having their period. With such an unusual business model, its unsurprising the firm went for a tampon ad that's far from traditional. In just over three weeks since launch, "First Moon Party" has garnered more than 28 million views. The spot's also been widely shared on social media, receiving more than 200,000 Facebook interactions and 6000 Tweets.
23 million YouTube views
Bangkok-based insurance firm Thai Life used a long-form YouTube video to tell a heart-warming tale of an unsung hero who never gets rewarded for his acts of kindness. Or so it seems. The advert Unsung Hero managed to garner 6 million views after being post on YouTube for just a week. The 3 minute ad, created by Ogilvy & Mather Bangkok, depicts a young man's acts of kindness on the community around him.
3m views and 8,693 comments on Sina Weibo in 2 days
To stand out from the crowd during Chinese New Year, luxury online retailer Glamour Sales enlisted Fred&Farid to create a social media stunt to get tongues (and tails) wagging. By pretending to swap their community manager for a dog, the firm generated 100,000 new customers on a tiny budget. Knowing that most of their existing customers search for promotional deals on Chinese microblogging site Sina Weibo, the agency posted a series of posts on the brand's page consisting of random letters and numbers. In just two days, the company generated 3million+ viewership, 22,167 reposts, 8,693 comments on Sina Weibo, and more than 150,000 visitors to the Glamour-sales Chinese New Year promotion websites. 1,500 new followers were recruited for brand Weibo account, and the total video views reached 123,000- all on a tiny budget.
7m YouTube views in 7 days
Burger King resurrected its 10 year old viral marketing phenomenon 'Subservient Chicken'- a 24 hour webcam that sees a man in a chicken suit perform any request submitted online. Visitors to the new site were initially greeted with a 'Missing Chicken Error' message. The campaign's star, it seemed, has flown the coop. To tease the video, Burger King planned to run ads in several major newspapers Sunday, including the Atlanta Journal Constitution, Chicago Tribune, Los Angeles Times and The New York Times. The initial video alone attracted nearly 7 million views on YouTube just 7 days since going online.
13 million YouTube views
Most flight safety videos can be tedious affairs, but this new video from Air New Zealand transports us to Middle Earth, with a host of stars from the new Hobbit movies adding new meaning to 'elf and safety'. The ad has become the airline's most successful ever, getting close to 120,000 people viewing it online every hour and clocking up a record 16 million online views within a week of release. The video has been viewed by more than eight million viewers on YouTube, six million on Facebook and a further 1.6 million on Youku in China. It has also been featured in numerous media outlets worldwide including CNN, NBC News, the Daily Mail and The Telegraph.
2.4m unique visitors, 4 X ROI, over 100m media impressions
To promote its latest digital espionage game Watch Dogs, Ubisoft launched a site that scrapes publicly available information from Facebook to show users how much of their data is in the public domain… and how it could be exploited. Perhaps most significantly, Digital Shadow places a monetary value on the data they share online, assessing what their displayed information would be worth to marketers and advertisers. People with higher "digital shadow values" expose more of themselves to the wider world. The app attracted more than 2.4 million users and earned plenty of news coverage in a post-PRISM era.
43m YouTube views
This emotionally affecting video from Save The Children aimed to raise awareness of the impact that three years of civil war has had on children in Syria, by bringing the conflict closer to home for Western viewers- getting £28m YouTube views as a result. The video charts a year in the life of a young Western girl by showing a second of each day as her life is gradually ruined by a worsening conflict.
1.3m YouTube views
To mark Valentine's Day 2014, shampoo brand Head & Shoulders partnered with Saatchi & Saatchi in the Philippines to run a hidden camera viral campaign, featuring young men a blind date with a lady (played by an actress) who has really bad dandruff. The campaign attracted over 1.3m YouTube views, and has been featured in local media, including a talk show. Agency Saatchi & Saatchi created the commercial for the Procter and Gamble brand, and is encouraging people to share it with the Twitter hashtag #FlakerDate.
98m YouTube views
In 2014 World Cup was a big success for many non-sponsors, but Nike took the crown from 'official' brand Adidas with this star-studded kick about in a park. Part of the 'Risk Everything' campaign, it features a group of young players assuming the identities of some of football's biggest names. Ronaldo, Neymar, Rooney, Ibrahimović, Higuaín, Götze, Hazard, Silva, Pirlo, David Luiz, Iniesta, and Tim Howard all took part as kids took on their imaginary roles. Nike reports the campaign has proved to be their most social and mobile to date, with 22 million campaign engagements, including likes, comments and shares.
20m YouTube views
Procter & Gamble is the clear winner among sponsors of the 2014 Winter Olympics on YouTube, racking up 27 million views through the first week of the Games with videos including "Pick Them Back Up," which depicts the journey mothers and children go though on their way to sporting success. TV and video advertising analytics frim Ace Metrix announced the top performing Winter Olympic brands and ads from advertising sponsors of the Sochi Games at the halfway mark.
13m YouTube views
Back in 1984, Peugeot ran a James Bond-style ad to promote its 205 model, replete with helicopter chases, explosions and glamorous women. Now the ad is back… with a digital twist. The brand has taken a digital first approach to generate buzz with a novel digital twist, with users encouraged to click on a hidden wolf in the film to be entered into a prize draw.
20m YouTube views
Continuing the success of its Super Bowl 'Puppy Love' commercial, Budweiser's new corporate social responsibility campaign carries another canine theme... and a powerful anti-drink drive message. The ad squarely targets the 21- to 27-year-old Millennial whose single mission in life is to share content with friends on social media. The ad is trending under #FriendsAreWaiting. Budweiser has found a powerful way to marry up a tough social responsibility message while retaining its brand values and its tone of voice. Films are the key currency in marketing consumer packaged goods and the tone of voice, the richness of the imagery, and the brand values all shine through.
410m YouTube views
This Activia yoghurt advert-meets-music-video featuring Shakira overtook Volkswagen's 2011 Super Bowl ad "The Force" to become the most-shared ad of all time. According to Unruly "La La La" is also the most successful example of a brand capitalising on the growing trend of "trackvertising", where a brand and musical artist co-release a video which can function as both a musical track and advertisement.
18m YouTube views
The annual John Lewis Christmas ad has become as much a part of a UK Christmas as Mince Pies, Santa Claus and woolly jumpers. This year, the retailer opted to preview its £1m ad on digital channels YouTube and Twitter first, ahead of its TV debut over the weekend. The 60-second film was made by Adam&Eve/DDB, the agency that has created most of the department store's commercials. John Lewis also posted an untitled version of their video to the company's Facebook page, which got over half the views and just under half the shares of YouTube, suggesting the social network is fast catching Google's video site as the go-to place for marketers looking to amplify their reach.
7m YouTube views
London commuters witnessed alien invasions, escaped tigers and giant tentacles emerging from a bus stop window, as part of this new video campaign from the Pepsi Max 'Unbelievable' campaign. The drinks brand installed a London bus stop on New Oxford Street with digital technology and a camera facing the street behind the shelter, giving the illusion that the digital display was a glass window panel. The different effects were then played on top of this image, causing passers by to stop, stare and take pictures. Their resulting reactions were enough to get a whopping 7 million YouTube views with a high share factor.
The Most Boring Ad Ever Made? from Leica Camera on Vimeo.
Forget dancing babies, star-studded ensembles and big budget action- this 45 minute video of a Leica Camera being polished has created quite a stir on the internet for being the most tedious ad ever created. The ad shows the white-gloved hand of an engineer as they pick up the aluminium frame of a Leica T camera and carefully give it a polish. The ad proved a huge success (and not just to those with OCD).