The unstoppable growth of mobile is changing how people engage in everyday tasks such as shopping, banking, learning, work, entertainment and even health care. In developing countries, mobile money has become a phenomenon, but success has relied on mobile operators and banks acting as collaborators, not competitors. This case study looks at how mobile network Airtel and the Equity Bank of Kenya formed a successful partnership that helped propel mobile money accounts into the mainstream across large parts of Africa.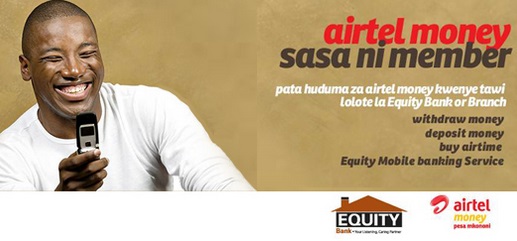 Case study summary
• Mobile money is transforming the way people access financial services in developing countries
• In 2014, The Equity Bank of Kenya launched a MVNO through mobile operator Airtel to give its customers secure mobile banking
• Banks in developing countries need to build strong relationships with mobile operators to increase financial inclusion through mobile money
The challenge
Mobile operators such as Safaricom have been hugely successful in launching mobile money platforms. M-Pesa which is operated on the Safaricom network is the most successful mobile phone based financial service in the developing world.
In Kenya at the heart of the mobile money revolution where there are over 17 million M-Pesa accounts, people appear to trust mobile operators more than they do banks.
Bankelele, an award winning Kenyan blogger on banking, states that the reason for increased trust towards mobile operators is their transparency and consistency in transaction costs.
Bankelele wrote in his blog:
"People seem to trust the mobile operators more than they do banks. Transparency and consistency in transaction costs have a lot to do with this. If they have 400 shillings in their mPesa account, they know that it will still be there six months or even a year later, but bank accounts seem to eat away their comparatively meagre savings with all manner of fees and charges."
Banks need to completely change the way they operate in developing countries. The typical commercial banking landscape which operates in the developed world will not adequately meet the needs of those in developing countries. In order to overcome this banks and mobile operators need to work together to further develop mobile money.
The solution
A good example of a close relationship between a bank and mobile operator can be seen in Kenya where the Equity Bank of Kenya has launched MVNO (mobile virtual network operator) through the African mobile operator Airtel.
The platform, which launched in July 2014 is a new distribution channel for banking products, linking bank accounts to mobile phone SIM cards.
To do this the Equity Bank of Kenya created their own ultra-thin SIM cards to sit on top of normal SIM cards in a phone, so users don't need to have two phones.
The bank gave these to their 9 million customers for secure mobile banking. Equity bank account holders can now pay for purchases with their phones and access a wide range of financial products faster and cheaper.

View this Business Center Interview With Adil El-Youseffi - CEO Airtel Kenya discussing the implications behind the deal:
The results
Mobile money is taking off in Africa, people want access to the financial system and mobile money is a convenient way to do this. As of 2014, nine countries in Africa had more people using mobile money accounts than actual bank accounts.
Banks in developing countries need to take note of this transformation of financial services and build strong relationships with mobile operators in order to succeed in mobile money.