Indonesia is one of the top markets of Facebook, providing a strong platform for Proctor and Gamble to relaunch one of its healthcare brands in the country. This case study looks at how Vicks created a 'Superlike' app to use the best social media content to their advantage- generating 7 times more engagement than the best brand pages in the country as a result.
Case study summary
• Brand relaunch uses Facebook with an innovative 'Superlike' app
• App encourages engagement by rewarding Indonesia's most powerful voices
• Buzz gets Vicks 250,000 new Facebook fans, with seven times higher engagement than the top Indonesia brand page at the time
The challenge
Having withdrawn for market in 1996, Proctor and Gamble wanted to relaunch the Vicks brand in Indonesia. Its new Cough Drops were being pushed across the region in a 'Power of Voice' campaign.
Working with agency Publicis, P&G wanted to harness social media to go beyond 'preaching' and to become an enabler of strong content.
Solution
By observing how people were using the 'like' button on Facebook, the brand came up with a novel 'Superlike' app that users could download.
Through the app, Vicks encouraged users to search through their Facebook newsfeed and find the post that they find most entertaining, moving or inspiring.
The app let them nominate their favourite posts with the branded 'superlike' button. They could then promote it amongst the network of other app users in a bid to get them to vote it as the best 'superliked comment' of the week.
Every week, the brand then showcased a people's choice winner and a 'Vicks Choice Winner', reflecting Indonesia's most powerful voices.
Each month, Vicks awarded a prize to the most powerful voice, creating a strong incentive to engage with the app.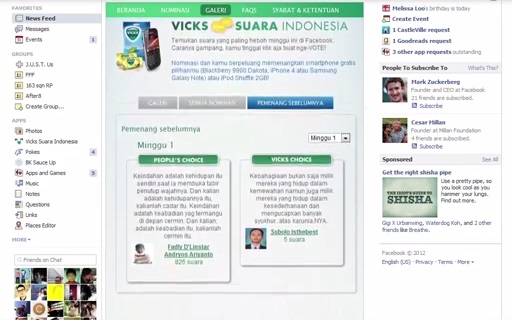 Results
The subsequent buzz around the brand resulted in Vicks gaining 250,000 Facebook fans. Further to this, 15% of fans were actively engaging with the page- seven times higher than the top Indonesia brand page at the time.