Paddy Power places huge emphasis on the importance of data – and relies on its heritage in this area to inform its optimisation campaigns. This case study looks at how the bookmaker worked with Maxymiser to turn the fast-pased world of betting into a succesful personalised experience for its customers.
Case study summary
· Betting firm looks to boost online gambling experience and establish what that 'best experience' looks like by serving multiple variations of content.
· Fast-paced betting environment needed huge technical precision from partner Maxymiser
· Site is now much more responsive and adaptable to consumer needs
The challenge
Paddy Power is the UK's third biggest online bookmaker and one of the largest online gaming businesses in Britain and Ireland, extending to Italy and Australia.
There are few business sectors where web content changes as frequently as online gambling. Not only are odds updated in real time, but customers' chances of winning big can often boil down to them placing their bets within fractions of a second. Maintaining the optimal customer experience – always a hostage to fortune in any gaming scenario – is critical to customer retention.
The Paddy Power portfolio is divided into Sportsbook and eGaming, with brands in poker, casino, bingo and games sitting alongside its high profile sports betting product. Customer interaction is supported by a combination of customer service call centres and an expanding retail presence that now exceeds 550 stores – but the majority of Paddy Power's revenues are generated online.
Moreover, its online business is divided further, with all brands delivered across a variety of channels; desktop, mobile, tablet and applications. With such a broad portfolio, spanning brands, territories and platforms, delivering an optimal and unified customer experience in a fast-moving marketplace is highly challenging.
In 2009, Paddy Power partnered with Maxymiser, the global leader in unified CXO, to develop and implement a long-term CXO strategy across its full portfolio. The programme is now a central part of the company's online marketing operations and plays a crucial role in customer acquisition and retention.
"Our primary objective is to ensure we always give our customers the best online experience when they interact with our brands," says Craig Martin, Conversion Optimisation Executive, Paddy Power. "With Maxymiser, we can establish what that 'best experience' looks like by serving multiple variations of content. Our second aim is to grow revenues and increase the customer lifetime value. When you get things right, those objectives go hand-in-hand. Maxymiser helps us to get it right."
The nature of online gaming is that customers rarely commit to one single device; a user will typically fluctuate between desktop, mobile and tablet devices, but will naturally expect a consistent cross-channel experience. This makes for a challenging testing environment.
The solution
Maxymiser implemented a unified optimisation strategy that can test campaigns across mobile and desktop platforms, spanning different territories, and drive significant gains across the business.
Paddy Power places huge emphasis on the importance of data – and relies on its heritage in this area to inform its optimisation campaigns.
The strict testing methodology has also proved to be invaluable in helping Paddy Power identify 'false positives' – commonly described as the death-knell for optimisation work.
"It's surprising how many people make the mistake of getting a false positive – but our multivariate testing has helped us to avoid them. When we first started our optimisation work, we had our own ideas around false positives – and then Maxymiser came in and helped shore up that belief in what we were doing. The Maxymiser tool is so effective that identifying false positives is now incredibly easy."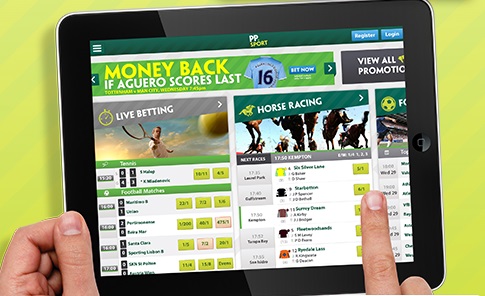 The results
Paddy Power has benefitted heavily from the managed service it has received from Maxymiser – most notably around the speed of implementation and the inherent value of working with a partner with substantial experience in the online gaming sector. However, the partnership is not built solely around the managed service – it's increasingly moving towards a more autonomous self-serve model.
"Our roadmaps are split down into managed service and self-serve. Where it's possible for us to do something in-house, we do, by using Maxymiser's Visual Campaign Builder tool. But when we require more complex testing, or perhaps the development queues are congested, we leave it to Maxymiser," says Craig. "As our relationship has evolved, our self-service output has increased markedly. We envisage that it will make up a far bigger proportion of our campaigns in 2015. As a business, everybody tries to be as self-sufficient as possible – and in terms of work, Maxymiser's Visual Campaign Builder (VCB) tool helps us to do that. VCB is a very simple tool – but it's a very powerful tool. It's really easy for us to use and enables us to get tests live very quickly. Most importantly, it's helped us deliver some real gains.