Everyone has Facebook friends that we barely know in real life- but can a real cup of coffee bring us closer together? Nestle challenged a Facebook user with 1,200 Facebook friends to meet as many of them as possible over a two-month period- surprising them with two cups of coffee and film their reactions and conversations. This case study looks at how the coffee brand got 8 million views with a unique social experiment that put the brand at the heart of the story.
Nescafe Really Friends 2min from Charlotte Buisson on Vimeo.
Case study summary:
• Nescafe France recruits influential Facebook user and challenges him to meet his social media friends for a surprise coffee.
• Facebook and YouTube video video becomes huge success and sparks follow up TV ads in France and a contest
• Resulting documentary gets 8m views and plenty of earned media exposure
The challenge
Nescafé wanted to rejuvenate its audience and communication by demonstrating the social power of coffee in a fun way. So we decided to make a real life experiment: the 'Really Friends?' project. We all have hundreds of friends on Facebook. But how many of them do we really know?
The solution
To find out, the brand worked with agency Publicis Conseil to carry out out a simple test: having a coffee with each of them, as we would with our real friends. So they asked Arnaud, a 37-year-old average guy with 1,200 Facebook friends, to meet as many of them as possible over a two-month period. He had to surprise them with two cups of coffee and film their reactions and conversations.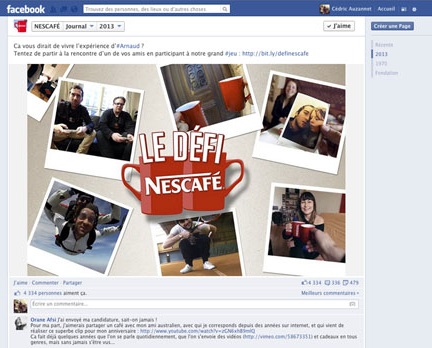 Arnaud took up the challenge and looked through the various profiles of his Facebook friends: childhood friends, an ex-girlfriend, a friend's father he was forced to accept on Facebook, work colleagues and even people he had never met. He filmed all these encounters, creating a 42-video web documentary.
As soon as the videos were uploaded on Facebook and YouTube, people started talking about the project. And within a few days, our first online videos reached 500,000 views. TV and internet ads were then launched, tapping a broader audience.
The brand's Facebook Page became an instant hit and central chat point about the virtual friendship topic. With Arnaud's experience becoming a real social phenomenon in France, people started making videos of their own encounters and spoofs of the experience (even on the most popular comic show in France: "Les Guignols de l'info" on Canal+).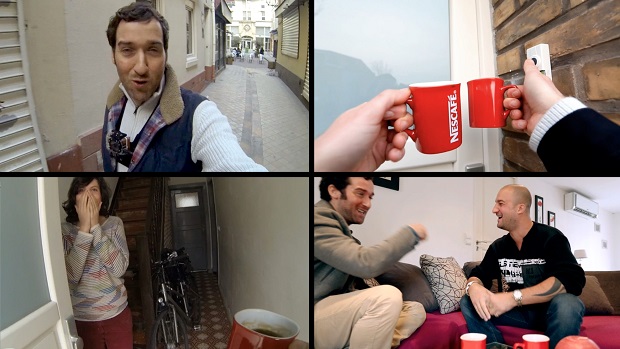 On the brand's Facebook Page, fans kept asking how they could have the same experience. So they set up 'le Défi Nescafé', a Facebook contest in which they could win the opportunity to relive Arnaud's experience.
The contest was a huge success, with over 26,000 applications, 19,000 Likes and 1,725 shares. In this way, we turned Nescafé, an aging coffee brand, into a modern symbol of true connections.
Results
Our 42-video web documentary reached amazing statistics: more than 8 million views, 63,050 Likes, 5,550 shares and 4,850 comments. The Nescafé Facebook Page also had an over 400% increase in fans. But most importantly, with the audience's participation, our campaign became a huge social phenomenon in France.
There were two reasons for this spectacular success. Firstly, we gained universal insight: with the growth of social networks, we all became virtually connected to a lot of people whom we wonder if they could be our friends in real life. The word "friend" used on Facebook helped us emphasize this question.
Secondly, using Facebook, the most popular social network, gave the campaign a huge resonance. Fans were commenting on the videos, starting conversations about how to turn virtual friendships into real life ones and even publishing their own encounters.
Facebook was the key for this campaign's success: it allowed the brand's audience to live the experience on the very network that inspired it.